Quick Links to Best Prices Price History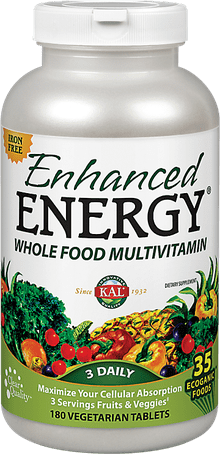 KAL Enhanced Energy Supreme
KAL Enhanced Energy Supreme 150 Tablets
Product Label
Enhacned Energy tablets feature AromaSmooth fresh minty coating to help enhance KAL Enhanced Energy Supreme Preminum Multiple takes the original Enhanced Energy Iron-Free Formula and raises the bar to a new level of supplementation. This premium multiple is scientifically formulated to optimize your body's daily performance levels and give you the energy you need. Easy-to-swallow tablets provide a power-packed blend of 80 key vitamins, minerals, enzymes, amino acids, digestive aids, and co-factors, plus a super-energizing green food complex, with important nutrients. KAL Enhanced Energy Supreme Premium Multiple contains premium ingredients including Coenzyme Q-10, Alpha Lipoic Acid, Lycopene, Pycnogenol and Tart Cherry for superior antioxidant support, as well as MSM for joint health.
In order for your body to assimilate these essential energy-producing nutrients, they must first be absorbed. KAL Enhanced Energy Supreme Iron-Free Premium Multiple contains an exclusive absorption-activating ActiSorb base which includes the highly-researched BioPerine. The ActiSorb base is intended to baost product performance by stimulating gastric secretion and the body's thermogenic activity. Don't settle for less. Welcome to the next generation of premium multiple supplementation. Take KAL Enhanced Energy Supreme Premium Multiple.
Directions
Use only as directed. Take 5 tablets daily with a meal or glass of water. Store in a cool, dry place.
Warning
Do not use if safety seal is broken. Keep out of reach of children. Keep your licensed health care practiotiner informed when using this product. Accidental overdose of iron-containing products is a leading cause of fatal poisoning in children under six. In case of accidental overdose, call a doctor or poison control center immediately. Do not use if you are pregnant or nursing.