Warning: This product is not currently available at any store.
Click the button above and PricePlow will email you when the first store has it in stock!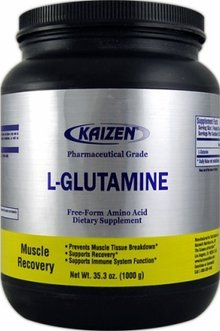 What is it?
Glutamine has traditionally been considered a "nonessential" amino acid, but current research suggests that it may be "conditionally essential" under certain metabolic conditions such as exercise. Glutamine is the most abundant amino acid in the body and is involved in many metabolic processes. It is essential to muscle growth, and helps reduce the rate of muscle breakdown (anti-catabolic).*
Glutamine also increases the concentration of plasma arginine and glutamate, two amino acids linked to muscle-strengthening growth hormone.* It is the single most prominent amino acid and is the first one to loose when trauma occurs. Glutamine also may help support fat loss while preserving muscle tissue.* Glutamine is also used by the brain and central nervous system (CNS) to make neurotransmitters.* Different neurotransmitters appear to get metabolized (used up) by heavy mental or physical stress.
What does it do?
Promote Muscle Growth*
Preserves Muscle*
Minimizes Protein Breakdown (Anti-Catabolic)*
Supports Mental Ability*
Antioxidant precursor*
Support Immune System Function*