Quick Links to Our Prices Price History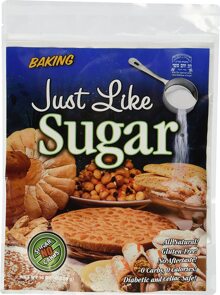 Just Like Sugar Just Like Sugar
Just Like Sugar Just Like Sugar Description
• All Natural
• No Aftertaste!
• 0 Carbs, 0 Calories
• Great for Baking!
• Tastes Just Like Sugar!

Certified Kosher with the approval of the Chief Rabbinate of Israel. 
DOES NOT CAUSE THE LAXATIVE EFFECT OF SOME SWEETENERS
Just Like Sugar is a wonderful natural alternative for those health conscious people who choose a calorie-restricted diet, with a great pure sweet flavor that tastes "Just Like Sugar" without any harm as from some artificial sweeteners.
Just Like Sugar is a great natural option for diabetics and may be useful in restricted diet programs where sugar cane is not allowed.
Just Like Sugar has an enhanced composition which is a source of Natural Dietary Fiber obtained from Chicory Root, Calcium and Vitamin C. These are essential ingredients in everyone's daily diet.
Just Like Sugar contains no Soy, Yeast, Animal derivatives, "MSG". L-Glutamic Acid, D-Glutamine Acid, Aspartic Acid, Gluten Free, Wheat, Free, Dairy Free or Preservatives; it is not fermentable and will not promote tooth decay.
Directions
When using Just Like Sugar in recipes use the same amount as called for.
Free OfSoy, yeast, animal derivatives, MSG, l-glutamic acid, d-glutamine acid, aspartic acid, gluten, wheat, dairy and preservatives.