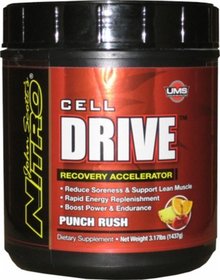 John Scott's Nitro Cell Drive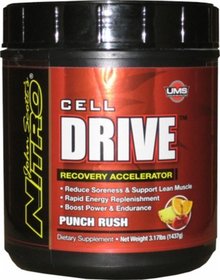 John Scott's Nitro Cell Drive
Cell-Drive Description from JOHN SCOTT'S NITRO
-Potent Anabolic Stimulator
-Boost Cellular Nitric Oxide
-Improve Power & Endurance
-Ultra Fast Recovery
-Cell Volumizer

Cell Drive is a is a refreshing and potent post-workout drink that contains everything your body needs to generate superior levels of muscle growth and unbelievably fast recovery. This formula's unique, unified design works by "driving" vital nutrients into your cells at an accelerated rate via our innovative 4-phase system and protects against exercise induced oxidative damage.

Highly Soluble & pH Balanced Creatine: Contains Creatine DP that utilizes a cutting-edge buffered delivery system for maximum absorption (400% greater than Creatine Monohydrate) as well as eliminates gastric upset and bloating.
-Hemo-Pump Drivers: Cutting edge, hemodilators and insulin mimickers help stimulate nitric oxide increasing circulation in the muscle and intensifying your pump, driving anabolic growth.
-BCAA Complex: Quickly returns body to anabolic state by providing rapid nitrogen replenishment directly to muscles.
-Recovery Accelerators: Provides vital muscle Glutamine, the Russian secret adaptogen Rhodiola and Beta-Alanine, which help quickly rebuild ATP stores, buffer pH changes (minimizing fatigue from lactic acid build-up), and improve the body's ability to handle intense training.
-Nitrosorb: This proprietary system helps maximize post-workout muscle glycogen levels to replenish energy levels and speed recovery.
Supplement Facts
Serving Size: 1 bottle
Servings per Container: 12
Ingredient
Amount
% Daily Value**
Calories
56
Calories from Fat
0
Total Fat
0g
0
Total Carbohydrates
23g
8
Dietary Fiber
0g
Sugars
0g
Sodium
10mg
Potassium
35mg
1
Protein
0g
0
Vitamin A
0IU
0
Vitamin C (ascorbic acid)
426mg
710
Calcium
1mg
Iron
0mg
0
Phosphorous
124mg
12
Magnesium
39mg
2
Chromium Picolinate
100mcg
10
Highly Soluble & pH Balanced Creatine
3500mg
-Creatine DP
Hemo-Pump Drivers
2225mg
-L-Arginine Alpha-Ketoglutarate
1000mg
-Taurine
1000mg
-Alpha Lipoic Acid
220mg
-Vanadyl Sulfate
5mg
BCAA complex
1000mg
-Leucine
500mg
-Isoleucine
250mg
-Valine
250mg
Recovery Accelerators
4025mg
-L-Glutamine
3000mg
-Rhodiola Rosea Root Extract
25mg
-Beta Alanine
1000mg
GlycoCharge
14000mg
-Waxy Maize Starch
Sugar Alcohol
9g
Net Carbohydrates
14g
** Percent Daily Value is based on a 2000 calorie diet. Your daily values may be higher or lower depending on your calorie needs.
† Daily Value not established.

Ingredients:
Erythritol, Natural & artificial flavors, Carmine, Blue 1, Red 40, Sucralose
Manufacturer's Directions
Mix one level scoop with at least 12-16oz. of cold water. Sip one serving during exercise or consume one serving immediately after exercise. On non-workout days take one serving upon waking. Consult your physician before starting any exercise program.
Manufacturer's Disclaimer
Due to the pH (acidity) of alpha lipoic acid, some users may experience a slight burning sensation in their throat while consuming Cell Drive. As with all creatine products, you should maintain an adequate state of hydration at all times. Do not use if you suffer from diabetes or if you are prone to hyperglycemia and/or hypoglycemia.