Quick Links to Our Prices Price History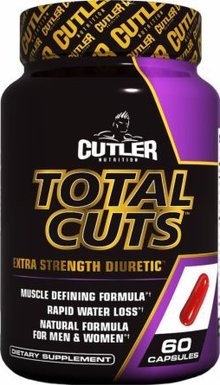 Total Cuts
Natural Formula For Both Men And Women†
Maintain A Healthy Fluid Balance†
Temporary Relief Of Occasional Water Retention†
Assist With Weight Management†
WHAT IS TOTAL CUTS?
Competitive athletes will many times use diuretics to help them remove that excess water weight and bring out more definition and muscle hardness. Cutler Nutrition has adopted the basic diuretic formula and made it user friendly with the addition of several natural ingredients for rapid water loss and weight management.†
WHY IS IT BETTER?
TOTAL CUTS includes important electrolytes to help regulate a healthy fluid balance and maintain optimal muscle performance for a harder, more shredded appearance.†
The TOTAL CUTS Matrix may relieve temporary water retention while supporting healthy kidney function and urinary health.†
Helps With Weight Management&dagger
Maintains a Healthy Fluid Balance†
Temporary Relief of Occasional Water Retention†
What's in it?
TARAXACUM OFFICINALE
Taraxacum Officinale also known as Dandelion, contains a number of active compounds such as quercetin, luteolin, and chlorogenic acid. The leaves are known to have a high potassium content.†
JUNIPER BERRIES
Juniper berries are known to promote the excretion of water without electrolyte loss.†
CAPSAICIN, TYROSINE, GREEN TEA EXTRACT
Supplementing with capsaicin, the amino acid tyrosine, and green tea extract may have beneficial effects on metabolism and promote fat loss.†
UVA URSI
Uva Ursi is suggested to have diuretic properties. Research demonstrates that taking Uva Ursi and Dandelion together can promote a healthy urinary tract.†
HYDRANGEA RHIZOME & ROOT
The applicable parts of hydrangea are the rhizome and root. Researchers think hydrangea possesses mild diuretic activity.†