Quick Links to Best Prices Price History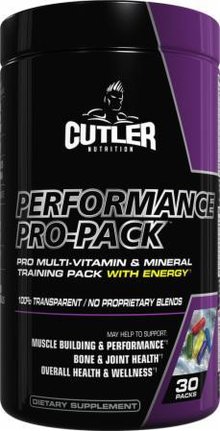 Jay Cutler Performance Pro-Pack
Multi-Vitamin & Mineral Training Pack with Energy*
Years of both research and practical application have made Multi Vitamins a "must-have." You know this, and we know you know this... But the real question is "What makes the Performance Pro-Pack different than all the ½ empty bottles of vitamins that have been sitting in your medicine cabinet for the past 3 years?"*
The answer is simple. Cutler Nutrition delivers an Olympian sized dose of key ingredients precisely designed to help support:
Immune System*
Energy*
Heart & Brain Health*
Joint Health & Inflammation*
Healthy Metabolism*
Fuel your Lifestyle with the Performance Pro-Pack
The first multi-functional vitamin with a 100% transparent label. No secrets, zero hidden blends. Just a complete profile to give your body the micro nutrients it needs, and give yourself the peace of mind knowing that you're consuming a complete diet – whether cutting or bulking!*
You seek improved performance, muscle recovery, and better health, and less pain to assure tomorrow's workout can be as epic as yesterdays. And what brand is better to deliver this than Cutler Nutrition?
Jay clearly understands that to build a successful diet "The devil is in the details." and with what we feel is the most comprehensive, most anabolic multi-vitamin. No detail will be missed!*