Warning: This product is not currently available at any store.
Click the button above and PricePlow will email you when the first store has it in stock!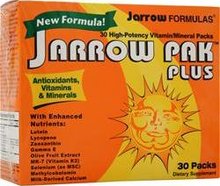 Jarrow Formulas Jarrow Pak Plus
Jarrow Pak PlusDescriptionfromJARROW
Jarrow Pak Plus contains 30 packets of 10 units each. Each packet contains: One CaroteneAll Softgel (small dark softgel), One Gamma E Softgel (larger amber softgel), One B-Right Capsule (white capsule), Six Mineral Balance Capsules (white capsule), One C+ Oleaselect Capsule (white capsule).
CarotenAll
Supplement Facts
Service Size: 1 softgel
Servings Per Container: 30
Ingredient
Amount
% Daily Value**
Vitamin A
2583IU
52
Lutein
10mg
†
Zeaxanthin
2mg
†
Lycopene
10mg
†
Phytoene
1mg
†
Phytofluene
1mg
†
Astaxanthin
500mcg
†
Gamma Tocopherol
10mg
†
** Percent Daily Value is based on a 2000 calorie diet. Your daily values may be higher or lower depending on your calorie needs.
† Daily Value not established.


Gamma E
Supplement Facts
Service Size: 1 softgel
Servings Per Container: 30
Ingredient
Amount
% Daily Value**
Vitamin E (d-Alpha Tocopherol)
34mg
167
Gamma-tocopherol
300mg
†
Delta-tocopherol
100mg
†
Beta-tocopherol
7mg
†
** Percent Daily Value is based on a 2000 calorie diet. Your daily values may be higher or lower depending on your calorie needs.
† Daily Value not established.


B-Right
Supplement Facts
Service Size: 1 capsule
Servings Per Container: 30
Ingredient
Amount
% Daily Value**
Vitamin B1
25mg
1667
Vitamin B2
25mg
1470
Vitamin B3 (as Niacin)
25mg
125
Vitamin B3 (as Niacinamide)
100mg
500
Vitamin B5
100mg
1000
Pantethine (Vitamin B5 derivative)
25mg
†
Vitamin B6 (as Pyridoxine HCl)
25mg
1250
Vitamin B6 (Pyridoxal 5-Phosphate)
10mg
500
Vitamin B12
100mcg
1667
Folic Acid
400mcg
100
Biotin
300mcg
100
PABA
30mg
†
Choline Bitartrate
50mg
†
Inositol
50mg
†
** Percent Daily Value is based on a 2000 calorie diet. Your daily values may be higher or lower depending on your calorie needs.
† Daily Value not established.


Mineral Balance
Supplement Facts
Service Size: 6 capsules
Servings Per Container: 180
Ingredient
Amount
% Daily Value**
Vitamin D3
500IU
125
Vitamin K
150
-Vitamin K1 as Phylloquinone
100mcg
-Vitamin K2 as MK-7
20mcg
Calcium
1000mg
100
Phosphorus
488mg
48
Iodine
150mcg
100
Magnesium
400mg
100
Zinc
10mg
67
Selenium
200mcg
286
Copper
2mg
100
Manganese
1mg
50
GTF Chromium
200mcg
167
Molybdenum
75mcg
100
Potassium
99mg
3
** Percent Daily Value is based on a 2000 calorie diet. Your daily values may be higher or lower depending on your calorie needs.
† Daily Value not established.


C+ Oleaselect
Supplement Facts
Service Size: 1 capsule
Servings Per Container: 30
Ingredient
Amount
% Daily Value**
Vitamin C
1000mg
1667
Olive Fruit Extract (Olea europaea)
25mg
†
** Percent Daily Value is based on a 2000 calorie diet. Your daily values may be higher or lower depending on your calorie needs.
† Daily Value not established.


Ingredients:
Other CarotenAll Ingredients: Softgel consists of gelatin, glycerin and water. Carob is used as a light barrier.

Other Gamma E Ingredients: Soybean oil. Softgel consists of gelatin, glycerin and water.

Other B-Right Ingredients: Cellulose, silicon dioxide and magnesium stearate (vegetable source). Capsule consists of gelatin and titanium dioxide.

Other Mineral Balance Ingredients: Magnesium stearate (vegetable source) and silicon dioxide. Capsule consists of gelatin.



Manufacturer's Directions
For adults, take one packet per day with a meal. For best results, beginning with first meal of the day take one B-Right (white capsule), one C + Oleaselect (white capsule) and two Mineral Balance (white capsule). With lunch or dinner, take two Mineral Balance, one CarotenALL (dark softgel) and one GammaE (amber softgel). Take two Mineral Balance two hours after last meal or at bedtime. It is okay to take entire pack at once with large meal.

Manufacturer's Disclaimer
The B-Right capsule should be taken with a meal. This capsule contains vitamin B-3 (niacin), which may cause a "niacin flush," especially when taken on an empty stomach. Symptoms are transient - typically lasting for approximately one-half hour - and may include burning, tingling, and itching sensations along with reddening of the skin. In some cases, dizziness and/or shortness of breath may occur. If a severe reaction occurs, drink plenty of water and discontinue use.




Be The First To Review This Product







Similar Products

TWINLAB Daily Two without Iron   180 caps

Our Price $22.69

ISS RESEARCH Super Vitamin Pak   30 pckts

Our Price $14.29

TWINLAB Daily Two Multivitamin   90 caps

Our Price $14.29