Quick Links to Best Prices Price History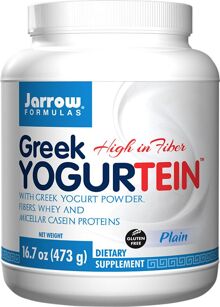 Jarrow Formulas Greek Yogurtein
Product Label
High in Fiber

With Greek Yogurt Powder, Fibers, Whey and Micellar Casein Proteins

15g of Protein per Serving
Gluten Free
Great Tasting
High in Dietary Fibers
rBST Free
Mixes Easily

Jarrow Formulas Greek Yogurtein combines Greek Yogurt with additional high-quality proteins and is optimized with dietary fibers. It is a great tasting (lacto) vegetarian protein, calcium and fiber source. The proteins in Greek Yogurtein are highly bioavailable. Moreover, the inclusion of quick digesting (whey) and slow-digesting (micellar casein) proteins provide added support for sustained energy levels and muscle replenishment. The dietary fibers promote digestive health and microfloral ecosystem balance. Greek Yogurtein has a rich and creamy texture and is easily mixed with your favorite beverages.