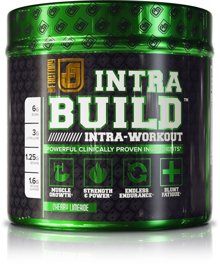 Jacked Factory IntraBuild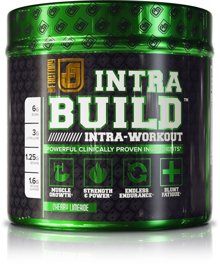 Jacked Factory IntraBuild
PREMIUM INTRA-WORKOUT BCAA POWDER. Intrabuild is an intra-workout bcaas amino acid drink like no other. It contains clinically-researched ingredients in efficacious doses that have been shown to enhance workout performance and maximize recovery.

BOOST LEAN MUSCLE GROWTH. Intrabuild works to increase muscle protein synthesis, fueling lean muscle growth. It also helps protect hard-earned lean muscle mass when cutting or training for fat loss.

MAXIMIZE PUMPS, STRENGTH, & HYDRATION. Intrabuild contains a premium coconut water extract to keep you hydrated and performing at a high level throughout your entire workout. Combined with BCAA's for energy, Citruline for pumps, Betaine for muscle building, and Beta-Alanine for endurance, Intrabuild is the ultimate during workout fuel.

NO ARTIFICIAL SWEETENERS OR FOOD DYES. MANUFACTURED IN THE USA IN A cGMP & NSF CERTIFIED FACILITY. Intrabuild is free from artificial food dyes and sweeteners. It is naturally sweetened & flavoured, and tastes phenomenal! The product is manufactured in the USA under the strictest cGMP & NSF manufacturing guidelines.

ORDER TODAY, 100% SATISFACTION GUARANTEED. It's time to take action and get results. Jacked Factory supplements are backed with a bulletproof money-back guarantee. If for any reason at all you aren't completely satisfied with Intrabuild, we will work with you until your concerns are resolved or arrange for a 100% refund on your purchase.
More