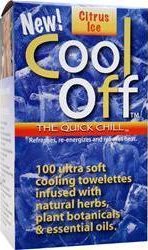 It's 2 Cool Cool Off Towelettes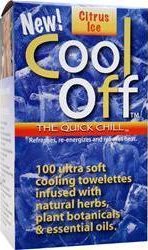 It's 2 Cool Cool Off Towelettes
Cool Off Towelettes - The Quick Chill Description from ITS 2 COOL
Refreshing Towelette in a Pocket-Sized Packet

COOL OFF is a natural, innovative personal cooling towelette product that renews, refreshes and re-energizes.

COOL OFF is infused with a clean-scented formula of natural ingredients that includes cooling herbs, moisturizing botanicals and therapeutic essential oils.

GREAT FOR PERI and MENOPAUSAL SYMPTOMS

COOL OFF has an immediate cooling effect when experiencing the unpleasant side effects of Menopause - the dreaded hot flash. Wipe the towelette on all the areas you NEED relief when having a hot flash. Using the towelette allows one to naturally cool down.

COOL OFF can also help those who may have a medical condition which leaves their skin feeling hotter than normal.

SPORTS AND FITNESS

Anyone involved in working out, or participating in Yoga, Biking, Hiking, Horse Riding, Golfing, Fishing, Walking, Soccer, Football, endurance activities (marathons, tri-athalons, etc) can be renewed, refreshed, and reenergized when using COOL OFF. We have had reports from individuals that COOL OFF has helped their handicaps (golf), mile times when running, and just enjoying their fitness activity due to feeling more "cool"!!!
Ingredients:
Witch hazel extract, alcohol, glycerin, extracts of: aloe vera, arnica, sea weed, chamomile flower, lemon peel, red clover, St. John's wort, oat kernel, flaxseed, fennel, evening primrose, wild yam, tea tree, black cohosh root, white tea leaf, and natural or organic fixatives (phenoxyethanol, methylparaben, ethylparaben, propylparaben, butylparaben) menthol, fragrance.
Manufacturer's Directions
Remove the all natural cooling towelette from the individual packet. Then press COOL OFF on the back of your neck, inner arms, or back of knees for several seconds to allow the herbal infusion to fully penetrate and build the chill...then blot your forehead and other desired areas. To reactivate the cool, splash a little water on the skin where you used the towelette. You'll find your inner cool again.
Manufacturer's Disclaimer
Just remember - we do not recommend using COOL OFF:

-On or near your eyes

-After shaving

-On sunburn

-On kids under 13 years of age

-On your "privates"