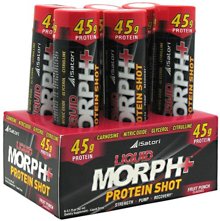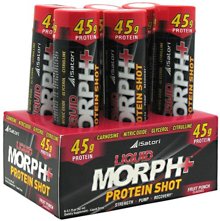 Carnosine for Strength and Power*
Nitric-Oxide for Skin-Splitting Pumps*
Glycerol for Mind-Blowing Vascularity*
Citrulline for Rapid Recovery*

Supercharged Protein: Liquid MORPH+
With 45 grams of anabolic protein, plus the 3-in-1 power of MORPH, the new 3oz Ready-to-Drink Liquid MORPH+ was formulated to supercharge your muscle growth!* Liquid MORPH+ was engineered to make it ultra-convenient to prime your body's anabolic environment.* It provides your muscles with 45 grams of high-quality protein plus…
All in an easy-to-slam 3oz, portable, virtually unbreakable vial. And the grape and all-new fruit punch flavors are wicked good.
Slam it down anytime you want to provide your muscles with 45 grams of Anabolic Protein plus MORPH's anabolic matrix for strength, explosive power, super pumps, and rapid recovery-to trigger new muscle growth FAST!*
(Click Here) to read the full abstract of the study, which was presented at the 2008 ISSN Conference.
What's inside Liquid MORPH+?

Liquid MORPH+ contains 45 grams of anabolic protein plus the 3-in-1 power of MORPH. All in a new ready-to-drink 3oz power shot.
Now, let's get something else straight... Liquid MORPH+ isn't one of those run-of-the-mill herbal supplements. Or some kitchen-sink formula. Or a concoction created in a bathtub. Nope. The development of Liquid MORPH+ required hunting down the world's top researchers. Folks who could source the purest, strongest compounds they know of. Let me put it this way...
Liquid MORPH+ contains pure, unadulterated chemical elements. Only the strongest and purest forms made the cut ... and were used to engineer Liquid MORPH+!
How does Liquid MORPH+ work?

Make no mistake, Liquid MORPH+ is unlike any supplement you've ever seen. At least 10 years ahead of its time. Bleeding-edge technology that's ultra sophisticated, superior in every way to anything else out there... and truth be known, when you experience it... you'd better tighten your lifting belt, because it's one hell of a ride.
Once consumed, Liquid MORPH+ immediately goes to work... You will-without a doubt-"feel" the release into your muscular system. It starts with explosive strength surges. Next comes skin-splitting pumps and roadmap vascularity. Finally, instant recovery and muscle cell regeneration.
Bottom line: Liquid MORPH+ triggers rapid increases in new muscle mass. No other product in the world contains such a sophisticated delivery technology, combined with the potency of a one-of-a-kind "chemical matrix" used to engineer Liquid MORPH+. Oh yeah, brother, I'm certain... it's unlike anything you've ever experienced!
How do I take Liquid MORPH+ for optimal results?

Easy. There's no need to load or cycle Liquid MORPH+. Just slam down one full vial before, during, or after intense exercise (that includes weight-training or cardio exercise). Or anytime you want to provide your muscles with the Liquid MORPH+ Anabolic Matrix for strength, explosive power, super pumps, and instant recovery-to trigger new muscle growth FAST.*
Can I stack Liquid MORPH+ with any other supplements?

Absolutely!
What is that tingling sensation I feel after taking Liquid MORPH+?

Don't be alarmed! We wouldn't hurt you. About half the guys who take Liquid MORPH+ will experience this sensation. It's coming from the Carnostim-X, as it synthesizes in your body. Technically, it's called paresthesia. It usually starts during the beginning of your workout and lasts about 10 to 20 minutes before it subsides. Don't worry. It's a totally harmless effect. But, I've gotta admit... it feels kind of cool. And beware, you can actually become quite addicted to the way it feels. (It's almost euphoric!)
This product contains niacin and beta-alanine, substances which may cause tingling or flushing sensations. This is normal and will likely subside over time with continued use. Do not exceed the recommended daily intake. Keep out of reach of children.