Warning: This product is not currently available at any store.
Click the button above and PricePlow will email you when the first store has it in stock!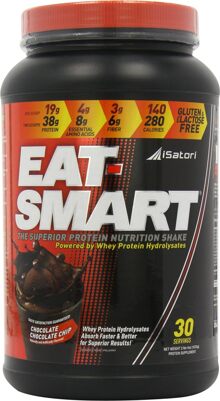 GET STARTED TODAY WITH THE
EAT-SMART
7-DAY STARTER KIT
DIETS SUCK! EAT SMART.
Eat-Smart is your solution for a healthylifestyle
not an unhealthy diet!
We've all tried many diets, and they're reallyall the same. There's a start date, an end date, and suffering inbetween. Worse, we usually put the weight we lost back on, plus a fewbonus pounds.
The way we see it, diets fail us, we don't faildiets. And that was our inspiration around the creation of Eat-Smart—ahealthy lifestyle, not an unhealthy diet.
Eat-Smart nutritionals are made with only thebest, most nutritious ingredients, and their taste… Well, let's justsay it's like giving yourself permission to eat dessert and cheat (butyou're not). In essence, they're designed with one simple philosophy:to help free you from dieting, forever, so you can start living ahealthier, lighter, happier lifestyle.
SUPERIOR PROTEIN. SUPERIOR TASTE.
STARTER KIT INCLUDES:
20oz Blender Bottle
45g Frosted Cinnamon Caramel Crunch
Nutrition Bars
45g Chocolate Peanut Caramel Crunch
Nutrition Bars
Double Vanilla Ice Cream
Nutrition Shakes
Chocolate Chocolate Chip
Nutrition Shakes
MORE EAT-SMART PRODUCTS
THE STARTER KIT IS
JUST THE BEGINNING.
Eat-Smart bars>
Eat-Smart MRP>
When I was a kid, my Mom and I relied on a localfood bank to eat. Wanting to give back, iSatori gives a nutritiousEat-Smart bar to Feeding America's "Backpack Program" for every box ofEat-Smart bars purchased. Thank you for helping us feed America'shungry children.
— Stephen Adelé, Founder & CEO, iSatori