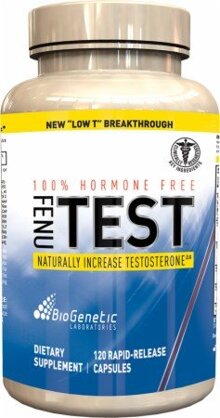 iSatori BioGenetic Laboratories - Fenu-Test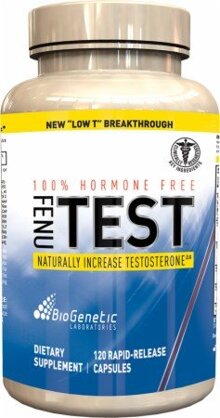 iSatori BioGenetic Laboratories - Fenu-Test
Strength | Muscle | Stamina | Drive
NEW!
"TESTOSTERONE SUPPORT" BREAKTHROUGH
100% Hormone Free
FENUTEST
Live Life to the Fullest
FENU TEST TO LIVE LIFE TO THE FULLEST! THE BREAKTHROUGH TESTOSTERONE SUPPORT YOU'VE BEEN WAITING FOR!*
But now there's Fenu Test; the testosterone support compound that provides a safe and effective testosterone-enhancement option‡ for men.* Whether it's supporting healthy testosterone levels, promoting mojo, or helping with healthy body composition (without any banned substances, illegal ingredients, or nasty side effects) Fenu Test is clinically tested and suggested to support healthy testosterone levels.* So, when it counts most, and you want to support strength, muscle mass, stamina, and sexual health, let Fenu Test help!‡
CLINICAL STUDIES on the key ingredients, used over four weeks, show they may help support:
Strength*
Muscle Mass*
Stamina*
Sexual Health*
Total testosterone decreases by about one percent per year in men over the age of 35. Worse, the bioavailable Free Testosterone may drop by an even greater amount at 1.2% or more per year.
What's in Fenu Test to Make it So Effective?
Fenugreek Extract (Trigonella Foenum Greacum) is a not-so-well-known herb... but it's become quite an underground sensation. It contains a variety of powerful muscle-building compounds, among them Protodioscin and Steroidal Saponins.* Unlike other natural testosterone-boosting herbs, fenugreek extract contains a host of active compounds in addition to Protodioscin and Saponins—all responsible for significantly boosting Testosterone (or T, for short) levels, muscle mass, and sexual health.
Research suggests the majority of these saponins exist as saponin glycosides. Fenuside is a set of potent saponin glycosides that have been specially extracted and standardized to yield the highest purity for maximal benefit. Now, since fenugreek extract is the only natural substance that produces these unique Fenusides, what's interesting is fenugreek extract "acts" more like Testosterone by binding to the Testosterone receptor sites and supporting Testosterone production.* And as a result, it may help amplify the androgenic and anabolic activity in the body.* Equally important, though, it does this without shutting off the body's own natural production of T. In a recent randomized, placebo-controlled clinical trial with 60 men, fenugreek was suggested to support healthy testosterone levels.
It's for these reasons, fenugreek extract is one of the best-kept secrets because, as confirmed by multiple research studies, it demonstrates strong androgenic and anabolic support for sexual health and muscle mass.*
Tribulus Terrestris (otherwise known as Tribulus or by the active compounds, saponins and protodioscin). This herbal extract was originally discovered and researched in Bulgaria (the home of many of today's Olympic Powerlifters). Tribulus works with your body—not to inhibit it—but to help promote its natural ability to produce T and support it within "normal" ranges.* Many theorize this is possible because tribulus works by increasing luteinizing hormone (LH), which in turn tells your body to start producing more T. In fact, one study done with healthy males who supplemented with 750 mg of tribulus per day showed a 72% LH increase and an impressive 41% increase in free T levels.* Another study suggested participants supported sexual health.* As a result of these findings, tribulus has become extremely popular and widely accepted as safe and effective.*
Eurycoma longifolia —Better known by its patented form, Longjax—animal studies suggest significant effects of Eurycoma longifolia on sexual health and support for T levels. Another plus is, because Eurycoma won't suppress your natural production of T: instead it boosts it. In a recent study reported in the 2007 ISSN Journal, 30 men participating in a 24-hour mountain biking race were divided into two groups. One group (15) received Eurycoma, and the other group (15) received a placebo. The researchers measured both cortisol and testosterone and discovered that the men who used Eurycoma enjoyed 32.3% lower cortisol levels and 16.4% higher testosterone.*They concluded, "These results suggest that Eurycoma longifolia extract may help to maintain normal levels of cortisol (low) and testosterone (high) and thus promote an overall 'anabolic' hormonal state during intense endurance exercise."* According to the science, it appears Eurycoma is a stimulator of T levels and sexual health and vigor, which really isn't all that bad if you think about it! Currently, there have been no negative side effects reported from the use of Eurycoma.
Zinc/Magnesium —Zinc Aspartate, Magnesium Aspartate—supported by two studies, this combination of minerals has proven its worth in the lab and in the real world. It's become apparent for some time now that consistent resistance training causes a depletion of vital minerals in the muscle cells. One such critical mineral is zinc. Zinc has also been suggested to play an important role in the body's ability to get a restful night's sleep. When you are able to get a sound night's sleep, your body releases many more hormones, namely T and growth hormone—two very powerful anabolic hormones for building muscle mass. In fact, a larger percentage of T secreted daily in men occurs during sleep, and levels peak during the early morning. As you can see, a good night's sleep is vitally important for increasing T levels, and thus supplementing with zinc can help replace not only the "depleted" zinc from weight training but supply the body with adequate amounts for a restful night's sleep... so your T levels are supported.* What's more, zinc and magnesium supplementation have both been reported to significantly support a healthy balance of the catabolic (muscle-wasting) "stress" hormone, cortisol.* Because zinc and magnesium deficiencies are both commonly found in the general public and are even more prevalent in intensely trained athletes and weight trainers, this combination has become popular. I suppose it's also safe to say that because zinc and magnesium is merely a harmless mineral combination, it's becoming more and more widely used by competitive athletes, including college, professional, and Olympian. And with great success!
Ajuga is a traditional folk remedy used in Central Asia for thousands of years to enhance muscular strength and physical endurance under harsh, exhausting conditions.*
Rhaponticum is a plant that grows throughout eastern Siberia that Soviet scientists used to support healthy body composition.* Currently, rhaponticum is listed in the Russian Pharmacopoeia as a support for increasing work efficiency under stressful conditions, improving athletic performance, and promoting recovery after intense muscular workloads.*
Epimedium also known as "horny goat weed," is grown as an ornamental herb in Asia and the Mediterranean region. It has been used for centuries to treat fatigue. Recent studies in humans suggest epimedium also supports cortisol balance and enhances immune function.*
P-450 Hesperetin ([(S)-2,3-dihydro-5,7-dihydroxy-2-(3-hydroxy-4-methoxyphenyl)-4-H-1-benzopy-ran-4-one]) is an interesting citrus bio-flavonoid found primarily in oranges and lemons. The antioxidant properties of hesperetin are fairly well established. But a newly discovered, added benefit of this substance may be even more profound for weight trainers since hesperetin appears to help support healthy aromatase levels.* See, aromatase is the enzyme that is involved in the process through which hormones in the body are converted to estrogen. Therefore, hesperetin may help support a healthy estrogen balance in the body.* This is important because the conversion of testosterone to estrogen is thought to increase as we age (at least in males), and because increases in estrogen are linked to a whole host of unwanted side effects, like increased bodyfat and water retention. What's interesting is that no one has used this powerful compound—until recently that is. Probably because hesperetin was virtually unknown until recent research indicated its potential positive effects and because it takes an immense amount of resources to learn how to extract such a compound from its natural source. Recently, however, hesperetin has been trademarked under the name P-450. Since it's a natural compound, you can use it for as long as you'd like.
Grapeseed extract is an extract from red grapes containing the active compounds known as oligomeric proanthocyanidins (OPC). OPC have potent antioxidant and cardio-protective properties.* Recent studies also suggest that OPC may help support a healthy estrogen balance.*
Finally, a unique and powerful combination, found only in Fenu Test, possesses serious anabolic growth factor stimulating properties. In fact, in a recent clinical study, these ingredients were suggested to support human growth hormone factors when taken 30 minutes before training (see below).
‡SCIENTIFIC STUDIES ON INGREDIENTS IN FENU TEST:
Ang, H.H., and Lee, K.L., Fundam Clin Pharmacol 16.6 (2002) : 479-83.
Ang, H.H., Sim M.K., Exp Anim 46.4 (1997) : 287-90.
Annewieke, W., J Clin Endocrinol Metab 85 (2000): 3276-82.
Awoniyi, C., et al., Journal Andriol 7 (1986) : 239-43.
Bamman, M.M., et al., Am J Physiol 280 (2001) : E383-90.
Bhasin, S., et al., Res 13 Suppl A (2003) : S63-71.
Bhasin, S., et al., N Engl J Med 335.1 (1996) : 1-7.
Bhasin, S., Clin Infect Dis 37 Suppl 2 (2003) : S142-9.
Brown, G.A., et al., Int J Sport Nutr Exerc Metab 10.3 (2000) : 340-59.
Ferrando, A.A., et al., Am J Physiol 275.5 Pt 1 (1998) : E864-71.
Gauthaman, K., et al., Life Sci 71.12 (2002) : 1385-96.
Guay, A.T., et al., Int J Impot Res 15.3(2003) : 156-65 .
Juniewicz, P.E., et al., Journal Urology 139.4 (1988) : 827-31.
Kadi, F.P., et al., Histochemistryand Cell Biology 113 (2000) : 25-29.
Kraemer, W.J., et al., Int J Sport Med 12 (1991) : 228-235.
Kraemer, W.J., et al., J Appl Physiol 69 (1990) :1442-50.
Manni, A., et al., J Clin Endocrinol Metab 61.4 (1985) : 705-10.
Meeking, DR, et al., Eur J Endocrinol. 1999 Jul;141(1):22-6.
McCell, G.E., et al., Can J Appl Physiol 24 (1999) : 96-107.
Pardridge, W.M., Clin Endocrinol Metab 15.2 (1986) : 259-78. Review.
Phillips, S.M., et al., Am J Physiol 273 (1997): E99-107.
Protich, M., et al., Akush Ginekol (Soia) 22.4(1983) : 326-9.
Sinha-Hikim, I., et al., Am J Physiol Endocrinol Metab 285.1 (2003) : E197-205.
Snyder, P.J., et al., J Clin Endocrinol Metab 85.8 (2000) : 2670-7.
Spaliviero, J.A., et al., Biol Reprod 2003 Sep 3[Epub ahead of print].