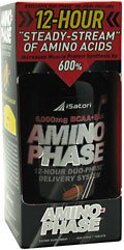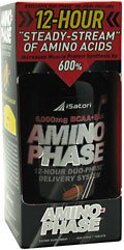 Your muscles depend on essential amino acids. They play a vital role in preventing muscle breakdown, increasing protein synthesis, and even promoting muscle growth and performance!
What most athletes don't know, however, is how important timing is when it comes to amino acid delivery. In fact, it's critical.
Amino acids are only available to your muscles for two to three hours, tops, after you consume them.
But now, using our proprietary Duo-Phase manufacturing delivery process, AMINO-PHASE provides all your essential amino acids (including the vital 2:1:1 ratio of BCAA's) when they're needed to promote real-world results! During the vital pre-workout period all the way through overnight sleep cycles. That way you don't need to take tablets or consume powders at multiple times throughout the day.
As scientific data proves, just one serving of AMINO-PHASE provides a 12-hour "steady stream" of amino acids to help increase your muscle protein synthesis by a whopping 600%! This, my fellow iron warrior, will keep your muscles protected and growing night and day!
12-Hour Duo-Phase Delivery System:
Provides a 12-Hour "Steady Stream" of Amino Acids
Increases Muscle Protein Synthesis by 600%
Delivers 6,000 mg of BCAA's and EAA's
How does Amino-Phase work?
Amino-Phase is the only amino acid that uses Duo-Phase Delivery Technology, a proprietary manufacturing process based on a bi-layer tablet. In the first phase, one layer of the tablet dissolves and half of the essential amino acids are immediately available for absorption and utilization by the body. These contents may be present for three to four hours. Then, just when the first phase is complete, the second phase begins, releasing the second half of the essential amino acids from the remaining layer of the tablet. During this second phase, the tablets contents may be available for a longer period of time — up to another eight hours.