Warning: This product is not currently available at any store.
Click the button above and PricePlow will email you when the first store has it in stock!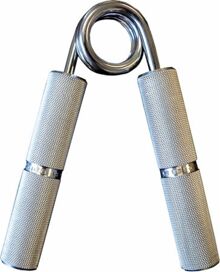 IronMind Captains of Crush Grippers
Known around the world as the gold standard for building and testing hand strength, Captains of Crush grippers are the single most important grip strength tool you can choose, for the fastest route to the strongest grip.
What's special about Captains of Crush grippers?
The gold standard of grippers: original, authentic, unmatched
The single best grip training tool, for maximum progress in minimum time
Knurled aircraft-grade aluminum handles, pioneered by IronMind in 1995
Proprietary GR8 springs: precise, durable, good-looking
Precision manufacturing for world-class performance, feel, and appearance
Made in the USA by IronMind, the leader in grip strength training tools worldwide
Captains of Crush grippers come in several strengths for a perfect fit:
Guide – c. 60 lb. For novices, rehab
Sport – c. 80 lb. Warm-up, conditioning
Trainer – c. 100 lb. Strong guys start here
Point Five – c. 120 lb. Bridge to the No. 1
No. 1 – c. 140 lb. Already gripping, start here
No. 1.5 – c. 167.5 lb. Bridge to the No. 2
No. 2 – c. 195 lb. Life-saving levels of grip strength
No. 2.5 – c. 237.5 lb. Bridge to the No. 3
No. 3 – c. 280 lb. World-class, get certified