Warning: This product is not currently available at any store.
Click the button above and PricePlow will email you when the first store has it in stock!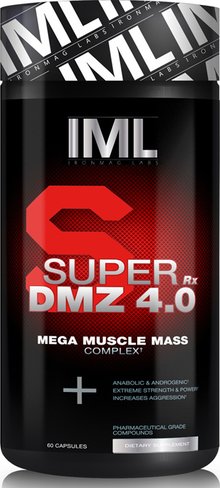 IronMag Labs Super-DMZ Rx 4.0
Product Description
IronMag Labs Super DMZ 5.0 prohormone is potent pro-anabolic muscle building synergy blend. Super DMZ 5.0 is developed by Robert Dimaggio, CEO and founder of IronMag Labs. Yes, this is the fifth generation of Super DMZ. It is expected to be the most popular supplement of the series, after it's releases in 2016. In all my years of being involved in the supplement industry, to my knowledge; No other supplement has had five or more generations under the same name.
Super DMZ 5.0
Legendary Supplements introduces Super DMZ 5.0. A complex synergy blend of seven ingredients for ultimate muscle mass. What can you expect from Super DMZ 5.0? Well, it's designed by IronMag Labs to increase muscle mass with the most effective legal pro-anabolics available in 2016 in the USA. In short, users should expect elevated increased in muscle mass. Super DMZ 5.0 main effects it's ability to convert to testosterone in the body, giving users an anabolic environment that sets them up for growth in muscle mass. Users taking this prohormone should expect increases in aggression. This increase in aggression will lead to elevated strength stamina, and ultimately raw power in the gym. Estrogen conversion is virtually non-existent and is not a common side-effect.
Super DMZ 5.0 blocks the expression of the gene MSTN
Super DMZ 5.0 has the ability to suppress one of the key genes humans have that blocks human's ability have accelerated, or uncontrolled muscle growth naturally. All people have a gene is scientifically labeled MSTN. This gene is involved in the release of normal Myostatin levels in the body. Myostatin in return is basically a protein that has a major role in muscle cells growth, thus limiting or not the ability of the muscle to have uncontrolled muscle growth, or having the muscle growth surpassed. Proven studies show that animals, and humans alike, that lack the Myostatin in their body, have uncontrolled muscle mass growth. All most always individuals lacking Myostatin have much more muscle mass then individuals with Myostatin. Most human studies to date on the suppression of Myostatin have been done to help victims who have diseases that prevent the individuals from being able to produce muscle mass, also called "muscle wasting".
Super DMZ 5.0 4-Androsterone Testosterone Conversion
Super DMZ 5.0 has 4-Androsterone in it's formula. 4 Andro coverts to testosterone by the time it enters and circulates through your bodies blood stream. It's not testosterone in it's basic pill form. However, after consuming it, the body converts it to testosterone in a two step process to testosterone. Testosterone being a major factor in muscle growth, and maintenance; can dramatically improve muscle recovery times, muscle strength, and overall muscle mass.
Super DMZ 5.0 Support Ingredients
Piperine has been added to Super DMZ 5.0 Rx as a support ingredient. 6, 7 Diindroxybergamottin has also been added as a support ingredient in this prohormone. Diindolylmethane in addition has been added to Super DMZ as a support ingredient. The combination of these ingredients shows you just how much IronMag Labs cares about the quality of it's prohormones, and it's customers.
Piperine is found naturally in every day black pepper. That's right black pepper you sprinkle on your food. It is said that adding piperine to your food, or supplements can dramatically improve the absorption rate of the ingredients being consumed with it. It is said that piperine can increase absorption rate of other ingredients by upward of 2,000%.
6, 7 Dihydroxybergamottin sounds like the next big prohormone ingredient. It's not, it is actually a support ingredient. This ingredient is found naturally in everyday grape fruit juice you can get at the grocery store. It said to effect the overall absorption, or metabolism of ingredients, and pharmaceutical drugs alike. My having this ingredient in Super DMZ 5.0, it will increase the absorption of the key prohormones in every single serving. It will also help the main ingredients in this supplement to stay in your system longer. This is a proven ingredient that works well for absorption and metabolism of ingredients.
The third support ingredient IronMag Labs included in Super DMZ is Diindolylmethane. It's said that this ingredient helps reduce the effect of having an enlarged prostate. It is also said that Diindolylmethane has some minor effect in some situations on preventing estrogen conversion. In addition, going outside the box Diindolylmethane in Super DMZ 5.0 is being studied on it's effects to reduce certain types cancer.
Super DMZ 5.0 Rx Ingredients
Supplement Facts
Serving Size: 1 Capsule
Servings Per Container: 60
Proprietary Blend 585 mg
3-beta-hydroxyetioallocholan-5-ene-17-one
3b-hydroxy-androst-4-en-17-one
3a-enanthoxy-5a-androstan-17-one
Epicatecin
Diindolymethane
6,7 Dihydroxybergattomin
Piperine
Other Ingredients: Rice Flour, Gelatine, Magnesium Sterate, Silica, FD&C Blue #1, FD&C Red #40, Titanium Dioxide.
Directions for use: As a dietary supplement take one or two capsules twice daily with food, one dose in the AM and one in the PM. Do not exceed more than four capsules in any 24 hour period. This product should be used in cycle lengths lasting 4-8 weeks' maximum. With an 8 week or longer off cycles.
Post Cycle Therapy (PCT) is highly recommended. For additional help using this product, as well as proper PCT please visit our support forums online.
Shop IronMag Labs Super DMZ 5.0 at the lowest price with Legendary Supplements daily low pricing! Information About IronMag LabsBrowse other IronMag Labs Supplements Shop Other Prohormones and Muscle Builders