Quick Links to Best Prices Price History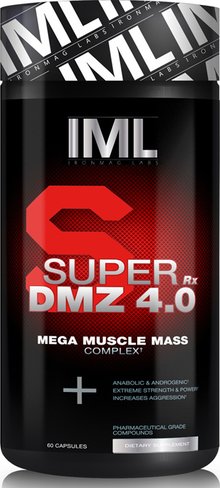 IronMag Labs Super-DMZ Rx 4.0
IronMagLabs Super DMZ Rx 5.0
The Prohormone For Gaining Muscle Mass & Strength

A 6 COMPOUND STACK! This is one of the most popualr prohormones that have come out from IronMag Labs. Super DMZ 5.0 is a complex that is focused on muscle mass and power. This is a compound perfect for those looking to bulk up (most popular in the fall and winter). This is why I diet of more calories rich in protein, carbs and good fats is essential. That mixed with hard training, rest and Super DMZ, will give you the biggest gains you have ever seen.
This is why IronMag Labs has come out with the most powerful compound on the market today!
Benefits & Results

Mega Complex of Ingredients
For Those Looking For More Muscle Mass & Power!
Both Anabolic & Androgenic!
Huge Increases in Strength!
Increased Aggression in and out of the Gym!
Super DMZ 4.0 vs Super DMZ 5.0
The main difference is that Laxogenin was removed which was in Super DMZ 4.0 and replaced with Epicatechin. Also, Dindoylmethane was added to the new Super DMZ 5.0 to help with hormone support and regulating estrogen levels. These two additions make this a much stronger and safer compound that 4.0.
Directions / How to Cycle
IronMag Labs recommends taking 1-2 capsules three times per day. You can take with food, but each dose should be split up evenly throughout the day. Use for up to 8 weeks (2-3 bottles required) and then take at least 6 weeks off before cycling Super DMZ 5.0 again.
Stacks
Now even though this is a very powerful blend of 6 compounds, Super DMZ 5.0 can still be stacked with other supplements depending on your goals:
Fat Loss / Cutting: Stack with IronMag Labs 1-andro
Bulking / Mass: Stack with IronMag Labs 4-andro
Strength / Power: Stack with IronMag Labs Epi-Andro
PCT & Cycle Support
Both a PCT and Cycle Support are recommended for this product. Take IronMagLabs Advanced Cycle Support on your cycle and Anabolic Matrix Post Cycle.
Estrogen Blockers
While the chance of getting any estrogen side effects from this product are very low, if you are still concerned, we would recommend taking the IronMag Labs E-Control during your post cycle.
Ingredients / Label
Serving Size 1 Capsule
Servings Per Container 60

Proprietary Blend 585mg Super DMZ 5.0 Proprietary Blend
3b-undecyloxy-5a-androstane-17-one
3-beta-hydroxyetioallochotan-5-ene-17-one
6,7-dihydroxybergamottin
Epicatechin
Dindoylmethane
3a-enathoxy-5a-androstan-17-one
Piperine
*Daily Values not established.

Other Ingredients: Rice Flour, Gelatin, Magnesium Stearate, Silica.
Warnings & Side Effects
This product should only be used by healthy adults at least 21 years old. Do not exceed the recommended dose or duration of 4 weeks. Do not use if you are at risk of, or being treated for diabetes, liver problems or high blood pressure. Do not drink alcohol while using this product, and increase daily water intake. This product can negatively affect male fertility. Always Consult your health care professional before using any dietary supplements.