Warning: This product is not currently available at any store.
Click the button above and PricePlow will email you when the first store has it in stock!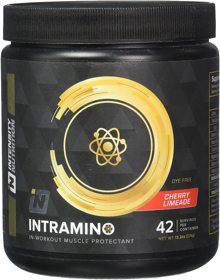 Intensity Nutrition Intramino
DEVELOPED BY A FORMER NAVY SEAL
SPORTS SUPPLEMENTS FOR
POWERFUL ATHLETES
REDUCE CATABOLIC EFFECTS*
Branch-Chained Amino Acids Enhancement
The in-workout drink scientifically formulated to maximize your muscles true potential by supplying them with precise amounts of the key muscle protectants known as Branch-Chained Amino Acids.
SUSTAIN MUSCLE ENERGY*
INTRAMINO
Infuses Your Muscles With Nutrients That Are Designed To Build Muscle, Support Recovery, Sustain Muscle Energy, and Maintain Mental Focus.*
INTRAMINO
Unique due to its precise formulation of protein blends, multi-stage carbohydrates, essential vitamins and minerals.*
INTRAMINO
Packed with leucine and glutamine to assist in the recovery process.*
STAY MENTALLY FOCUSED
>> Instantized Branch Chain Amino Acids (BCAA's) for
good solubility and fat absorption
>> Contains potent Nootropics to reduce fatigue and
increase mental focus during intense exercise*
>>

Helps hydrate your body while exercising
Pure creatine works in synergy with the amino acid beta-alanine to feed your muscles with essential fuel while helping them clean out the metabolic byproducts that cause fatigue.*
A potent combination of arginine and ketoglutarate enhances your body's production of nitric oxide, helping to reduce destructive ammonia buildup in the bloodstream while enhancing protein synthesis.*
FUEL caps this amazing supplement with judicious amounts of vitamin B12 to improve mental focus and stamina for an intense workout.*
- NO PIXIE DUST -
TRAIN WITH INTENSITY