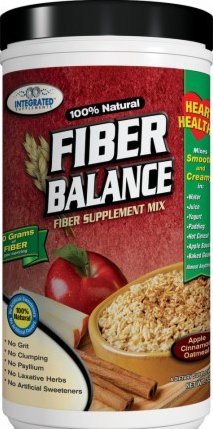 Integrated Supplements Fiber Balance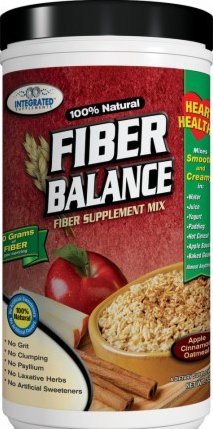 Integrated Supplements Fiber Balance
Swipe left/right to reveal product information
100% Natural Fiber Supplement Mix
Integrated Supplements Fiber Balance is a precise blend of 5 types of fiber, each chosen for their unique health benefits. Each serving provides 10 grams of fiber that mixes smooth and creamy, with no grit or clumping, in water, juice, yogurt, pudding, hot cereal, baked goods, or just about anything else.
Supports Weight Loss*
Supports Digestive Health*
Lowers Cholesterol*
All-Natural
Mixes Smooth and Creamy
Made with 5 Types of Fiber
10 Grams of Fiber Per Serving
No Psyllium
No Flax
OU Kosher Certified
Fiber Balance Ingredients
Nutrim Oat Beta Glucan
When combined with a diet low in saturated fat and cholesterol, oat beta glucan has been shown to lower cholesterol levels and reduce the risk of heart disease. Though oat beta glucan can be found in oatmeal and oat bran cereals, these foods also contain high amounts of starch, calories, and anti-nutrients such as phytates (substances which inhibit mineral absorption). Nutrim is specifically formulated to deliver the health benefits of oat fiber without these other undesirable elements.*
Fibersol2
Fibersol2 is a soluble fiber which has been shown to help maintain healthy blood glucose levels and insulin response.*
Inulin
Inulin is a naturally-occurring fiber often found in root vegetables. It has been shown to enhance the growth of beneficial bacteria in the intestines and may aid in the absorption of minerals such as calcium.*
Oligofructose / Fructooligosaccharides (FOS)
Oligofructose (aka Fructooligosaccharides or FOS) imparts health benefits similar to those of inulin (the polysaccharides which make up oligofructose are shorter chains than those found in inulin).*
Apple Fiber
Apple fiber is a well-known source of pectin and is revered for its digestion-supporting and detoxifying effects.*
Prebiotics - The Key to Fiber's Benefits
For years, scientists and laypeople alike thought of dietary fiber simply as the indigestible component of plant foods which "sweeps" out our insides and keeps us regular. In recent years, however, it's been found that some types of fiber offer benefits far beyond the digestive system. Certain types of fiber, called prebiotics, are able to support the growth and maintenance of healthy bacteria in the intestines. These bacteria not only help to keep us regular, they're likely involved in every aspect of our health.*
Research has found, for example, that healthy bacterial populations in the intestines may play a role in regulating blood lipids and cardiovascular health, blood sugar regulation, appetite control and weight management. Believe it or not, even our moods may be influenced by the bacteria that inhabit our intestines. It's fair to say, however, that our modern fiber-poor diet often has a negative effect on the levels and types of healthy bacteria in our intestines.*
This exciting and emerging field of research is why we formulated Fiber Balance with 5 types of fiber – each with a unique prebiotic effect, helping to support the growth of many types of beneficial bacteria throughout the gastrointestinal tract. This is why fiber supplements formulated with a single fiber source simply can't compare to Fiber Balance.*
What You Won't Find in Fiber Balance
Fiber Balance is unique among fiber supplements in that we didn't include common "fiber" ingredients such as psyllium and flaxseeds. Here's why:
No Psyllium
When mixed with liquids, psyllium can absorb many times its weight in water, and can quickly become gelatinous and very difficult to drink. Because just a small amount of psyllium can expand to a very large volume in the presence of liquids, it's difficult to take in more than a just a few grams of fiber per day from psyllium. We created Fiber Balance with a full 10 grams of fiber per serving and, unlike psyllium-containing products, Fiber Balance doesn't gel up – it mixes smooth and creamy and tastes great.
No Flaxseeds
As the "offspring" of plants, nature designed seeds not only to supply nutrition to growing plants, but also to provide resistance to the digestive systems of foraging animals. As such, though seeds can be sources of fiber and nutrients, they're sometimes sources of mildly-toxic elements as well.
It just so happens that flaxseeds contain quite a few such plant-based toxins.
For example, flaxseeds contain a relatively large amount of omega-6 and omega-3 polyunsaturated fatty acids. Though these fatty acids are necessary in small amounts, they are also apt to go rancid rather quickly, and can cause digestive disturbance as a result. It's no coincidence that fiber supplements which contain ground flaxseed often have the unmistakable paint-like aroma of rancid flax-based lipids.
Flax seeds are also, by far, nature's richest source of phytoestrogenic compounds called lignans. Flax lignans have been shown to have powerful hormone-like effects in the human body, and are likely to add to the detoxifying burden of the liver.
In addition to its fragile fats and hormonal components, raw flax is known to contain substances called cyanogenic glycosides which can be converted into the well–known toxin, hydrogen cyanide, by the gut flora. It's probably the presence of cyanogenic glycosides, and not dietary fiber, which is responsible for the bowel-stimulating or laxative effect of flaxseeds. People taking "fiber supplements" containing flaxseeds should be aware of this, because like many other harsh laxatives, the body can eventually become dependent on flax. As a result, flax is likely to actually impair proper bowel function in the long-run.