Quick Links to Best Prices Price History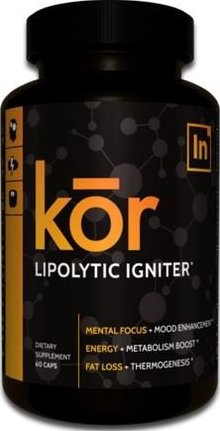 Inspired Nutraceuticals KOR Lipolytic
Product Highlights
Full Disclosure Label
Scientifically Backed Ingredients
Energy, Focus & Cognition
Inspired Nutraceuticals KOR Lypolitic Ignitor was designed to be more than just a high-stimulant thermogenic like the other ones out there. Instead, the goal was to bring a next next=generation thermogenic and not only gave you energy, but enhanced your mental focus and cognition. Move beyond "just another thermogenic" and step into KOR Lipolytic Ignitor for reaching your ultimate physique with the smarter approach.
Aframomum Melegueta (as Pyroxidine)
Specialized exract of 'Grains of Paradise'
Stimulates loss of brown adipose (fat) tissue
Can help increase energy expenditure
Synephrine
Also known as bitter orange extract
Known as a safe alternative to ephedra
Helps facilitate utilization of energy substrates
Helps stimulate metabolic processes and favors uptake of amino acids into muscle
May help suppress appetite
Stimulates fat loss and energy expenditure
Doesn't increase heart rate or blood pressure
Cocoabuterol (N –Coumaroyldopamine)
Naturally occuring; found in the cocoa plant
Acts as Beta-2 agonist; activates mTOR within the body
Aids in sparing lean muscle tissue during fat burning
2-aminoisoheptane (DMHA)
New age stimulant known more commonly as DMHA
Classified as 'psychostimulant' and known to be the DMAA replacement
Shown to have roughly 90% the strength of DMAA
Enhances mental focus and cognition
Shown to elevate dopamine and norepinephrine
N-phenylethyl Dimethylamine Citrate (Eria Jarensis Extract)
Known more commonly as Eria Jarensis Extract
Strong stimulatory and euphoric effects
Has euphoric properties and increases mental cognition
Has PEA attributes; Crosses blood-brain barrier to cause catecholamine release
Huperzine A
Cognitive enhancer that inhibits acetylcholinesterase
Shown to be useful in combating cognitive decline associated with aging
Caffeine
Potent CNS stimulant that antagonizes adenosine receptors
Enhances mental focus and energy
Increase cognition and reaction time
Contributes to fat loss by helping release more fat cells and reduces fat storage
Manufacturer's Directions:
Take 2 capsules once per day. Do not exceed 4 capsules in 24 hours.
Inspired Nutraceuticals KOR Lipolytic Supplement Facts