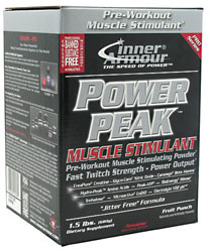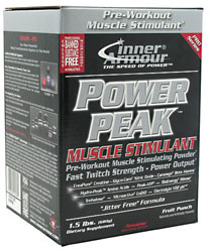 "Jitter Free" Formula*
#1 Rated Muscle Stimulant*
Fast Twitch Strength – Power Output*
Post Workout Multi-Vitamin Pack*
Sustained Release for Targeted Delivery*
pH Protected from Stomach Acid for Targeted Delivery*
The POWER-PEAK Advantage: Our breakthrough formula provides superior muscle stimulation. Muscles need energy to generate force and power. The chemical structure form of adenosine triphosphate (ATP) creates power. Maximizing this process is the purpose of POWER-PEAK. Our category-redefining formula directly targets muscle stimulation rather than causing a simple central nervous system (CNS) reaction.
POWER-PEAK is full of nutritional substrates and co-factors that stimulate ATP re-synthesis and other processes enhancing workout performance, muscle recovery and growth. POWER-PEAK won't produce the side effects (e.g. jitters, anxiety) associated with CNS stimulants. You can take it any time, day or night. Ingredients in POWER-PEAK have been shown to dramatically increase strength and endurance. That means you're generating higher forces at higher speeds; in other words, greater power. And when it comes to performance, power is what defines a great athlete.