Warning: This product is not currently available at any store.
Click the button above and PricePlow will email you when the first store has it in stock!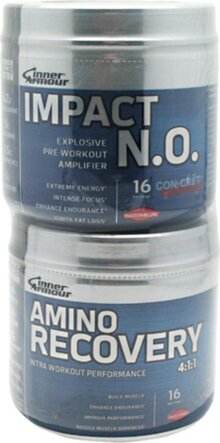 IMPACT N.O.
PRE-WORKOUT ENERGY SUPPLEMENT
0
CALORIES
0
SUGAR
0
CARBS
EXPLOSIVE ENERGY*
INTENSE FOCUS*
AMAZING WORKOUTS*
IMPACT N.O.
PRE-WORKOUT ENERGY SUPPLEMENT
IMPACT N.O. is more than an energy drink. It's a high octane kick with ingredients focused on boosting nitric oxide and energy enhancers to annihilate fatigue.* Boosting nitric oxide helps support blood flow which ultimately helps you train harder for longer.*
Push it to the next level with IMPACT N.O. It's got everything you need and nothing you don't. No calories, no sugar, no carbs, NO limits. IMPACT N.O. is perfect to slam back right before you hit the gym, field or any time you need an extra boost of energy.
IMPACT NO Pre-Workout goes one step further: you're not only getting nutrients to build muscle, and drive intense workouts, but also compounds to help stimulate fat loss, while preserving your hard earned muscle at the same time—try getting that from the other under-dosed pre-workouts out there.*
Extreme energy, intense focus, enhanced endurance and amplified fat loss—Impact NO Pre-Workouts—hide nothing formula, ignites your workouts and destroys the competition!*
Features & Benefits
Support Energy and Intense Focus*
Enhances Endurance*
Stimulates Fat Loss and Ignites Muscle Building*
Increase Power and Strength*
Increases Vascularity and Drives Muscle Pumps*
Promote Stamina and Endurance*
No Proprietary Blends
Refined.
Reformulated.
Results.
The new blue.