Warning: This product is not currently available at any store.
Click the button above and PricePlow will email you when the first store has it in stock!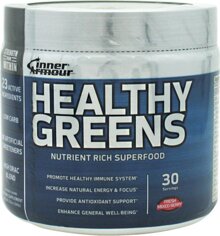 Inner Armour Healthy Greens
HEALTHY GREENS
NUTRIENT RICH SUPERFOOD SUPPLEMENT
100% NATURAL
23 ACTIVE INGREDIENTS
NO ARTIFICIAL SWEETENERS
HIGH ORAC BLEND
HEALTHY GREENS
NUTRIENT RICH SUPERFOOD SUPPLEMENT
Healthy Greens is a nutrient-rich superfood supplement packed with 23 unique, powerful phytonutrients. If you are following a healthy diet that is focused on getting lean and building muscle, that diet may be restricted from many of the essential and vital nutrients found in a wide variety of fruits and vegetables.*
Many people are not getting the recommended servings of fruit and vegetables needed to maintain a healthy diet. Many foods today also lack nutrient density, and have been stripped of their nutritive value. On top of that, following a restrictive, high protein diet combined with workout stress can lead to an increase in acidity in the body.
Healthy Greens provides where your diet may fail, delivering a wide variety of superfoods packed with vitamins, minerals and phytonutrients that help balance out acidity, detoxify and support healthy body alkalinity.*
Healthy Greens delivers a rich blend of high ORAC antioxidants. ORAC, or Oxygen Radical Absorbance Capacity, is a measurement of the antioxidant capability; the higher the ORAC, the stronger the antioxidant capability. Healthy Greens helps combat the oxidative damage brought on by the generation of free radicals during an intense workout, providing the antioxidant-packed superfoods Acai Berry, Acerola Berry, Pomegranate, Tomato and Carrot.*
Healthy Greens also delivers an energizing blend of adaptogens and antioxidant ingredients such as Green Tea to stimulate metabolism and energy, Gingko Biloba to support focus and Siberian Ginseng to enhance endurance.* This powerful greens formula is also formulated with both a probiotic blend and the prebiotic fiber from Inulin and Apple to support a healthy digestive system and a healthy immune system.*
---
FEATURES & BENEFITS:
Promotes a Healthy Immune System*
Supports Natural Energy & Focus*
Provides Antioxidant Support*
Promotes General Well-being*
Supports Healthy Digestion*
No Artificial Sweeteners
Low in Carbs and Sugar
High ORAC
23 Active Ingredients
Promotes Healthy Immune and Digestive System: Provides probiotic and prebiotics to support a healthy digestive system and optimize immunity.*
Increases Natural Energy & Focus: Formulated with superfoods that contain vitamins, minerals and adaptogens that stimulate the metabolism, unlock energy, enhance endurance and increase focus.*
Provides Antioxidant Support: Provides 23 unique ingredients from superfoods delivering a High ORAC antioxidant value to help reduce free radical damage brought on by the environment or an intense workout.*
Enhances General Well-Being: Delivers a rich blend of phytonutrients that help promote overall health, flush out toxins and balance body alkalinity.*
---
FAQ's:
Is Healthy Greens really necessary - can't I just get everything I need from my diet?
Although you can get the nutrients found in Healthy Greens from food, you may find it hard to get all 23 of the phytonutrients, vitamins and antioxidants that you get from just one serving of Healthy Greens. In addition many vegetables and fruits are stripped of their nutritional value by over-processing, leaving little to help meet your daily nutrient requirements. It may be difficult to get every nutrient you need every day without supplementing. Healthy Greens is formulated to work with your diet, delivering a healthy blend of nutrients to support energy levels, promote recovery from your workouts and enhance overall health and well being.*
How often should I use Healthy Greens?
Healthy Greens can be used first thing in the morning, throughout the day, or even after your workout to increase natural energy levels and support the recovery process from working out.* Healthy Greens delivers a power-packed nutrient rich vegetable and fruit blend that is high in ORAC antioxidants and can help fight off free radicals brought on by workout stress.* Healthy Greens formula is perfect for drinking on its own, or added to your post-workout nutrition shake to help support the recovery process.*
What do I mix with Healthy Greens with?
Mix Healthy Greens with juice, water or your favorite beverage. Although Healthy Greens can be easily mixed in a shaker cup or with a spoon, it can also be blended with ice, fruit and or with your favorite Inner Armour Blue protein powder for a delicious and healthy smoothie.*
How does Healthy Greens taste?
Healthy Greens tastes amazing, just like all other Inner Armour Blue products! Made with 23 high quality ingredients that deliver a low carb, healthy green and vegetable powder that is high in ORAC value, free from artificial sweeteners and loaded with taste.
How many servings of fruit and vegetables do I need in my diet?
The USDA recommends that we eat up to 5 servings of vegetables and 4 servings of fruit daily to optimize health. But if you are on a restricted diet, getting that many servings of high sugar fruit or starchy vegetables can be difficult. Each serving of Healthy Greens delivers 23 unique phytonutrients and powerful antioxidants from superfoods while staying low in carbs and sugar.* Healthy Greens delivers all the nutrients you need to help enhance your diet, detoxify your body, support a healthy alkalinity/acidity balance in the body, increase energy levels and aid in the recovery and repair process!*
Who should take Healthy Greens?
Healthy Greens is formulated for any fitness-focused individual who works hard in the gym, is looking to maintain a healthy lifestyle and maintain a muscular, lean physique.* Healthy Greens is a nutrient rich superfood formulated with 23 active ingredients that promote a healthy immune system, promote a quick recovery, re-charge energy levels and enhance general health and well-being.
Refined.
Reformulated.
Results.
The new blue.