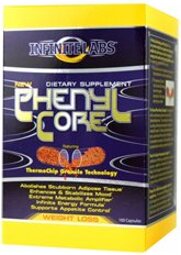 Infinite Labs Phenyl Core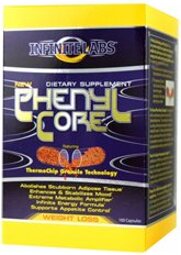 Infinite Labs Phenyl Core
Swipe left/right to reveal product information
Phenyl Core is Effective in:
Rapid Weight Loss in a Healthy and Safe Way*
Improving Mood*
Suppressing Appetite and Cravings*
Providing Endless Energy*
Amplifying Your Metabolic Rate*
Cutting Excess Fat*
Preventing Body Fat Regain*
Finally a way to lose the weight without the weight loss issues. Unlike other weight loss products, Phenyl Core's formula is designed to combat the hunger pains and bad mood typically associated with weight loss. In addition to trimming down the excess fat, Phenyl Core's benefits include endless energy, curbed hunger, amplified metabolic rate, reduction in stubborn adipose tissue and enhanced mood. The Phenyl Core formula offers the perfect support tool so you can train hard, eat right and feel great during your weight loss transformation.*
The Phenyl Core formula was developed with a single purpose: to allow for rapid weight loss in a safe way. Phenyl Core's uniqueness stems from its ability to address the physical and mental aspects affecting those who are involved in the difficult weight-loss transformation process.