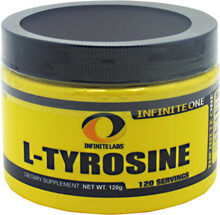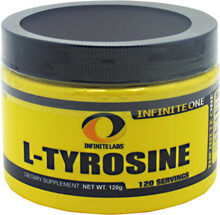 L-Tyrosine: is an essential amino acid and a precursor of the neurotransmittersdopamine and norepinephrine. In addition to supporting overall health by helping assistin adrenal and thyroid function, L-Tyrosine has also been contributed to metabolismsupport while also supporting a healthy mood and mental focus.*

It is important to remember how closely related your mental health is to your general healthand muscle recovery. Stress and a lack of focus can greatly diminish your body's ability to utilize the resources necessary to rebuild and repair muscle tissue.* If you are having trouble staying focused in and out of the gym…
DONT WORRY BECAUSE
INFINITE ONE
IS HERE TO HELP!
With Infinite ONE, you now have the ability to add L-Tyrosine to any existing supplement or evenmake your own focus product.*

Stacking Infinite ONE
The Basics:
Green Coffee Bean
L-Citrulline
Add To:
Your pre workout protein shake to help support your focus and drive prior to exercise*
Remember that all Infinite ONE products have a recommended dosage that should not be exceededwhen mixing with other supplements or making your own.*
NO FILLERS. NO FLAVORING.
KNOW EXACTLY WHAT YOU'RE GETTING.
IT'S TIME TO EVOLVE