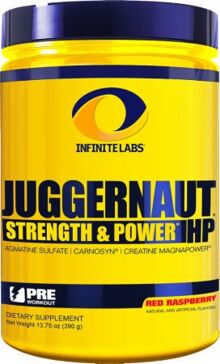 Infinite Labs Juggernaut HP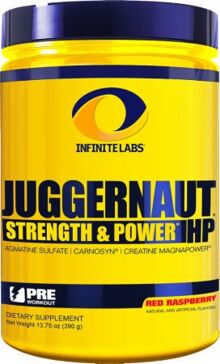 Infinite Labs Juggernaut HP
Become an Unstoppable Juggernaut
Increase Lean Mass*
Stimulate Muscle Fiber Growth*
Provide Explosive Power*
Prolong the "Pump" Sensation*
Enhance Mental Focus*
Significantly Reduce Fatigue*
Improve Blood Flow*
Buffer Lactic Acid in Muscles*
Juggernaut HP is the perfect pre-workout solution to support the intensity and drive of your workout and help keep you pushing until the very end. Our unique formula combines all of the necessary ingredients to help our customers receive the 'boost' necessary for that optimal training session desired by many athletes and bodybuilders. Juggernaut HP has been designed to provide users with a unique, blood boiling, "plasma expanding" pump. The inclusion of Agmatine Sulfate with other performance enhancing ingredients is believed to achieve a synergistic effect unique to Juggernaut HP users.*
Juggernaut HP Ingredient Breakdown
Advanced Vaso & Adaption Matrix
Beta-Alanine
Beta-Alanine is a non-essential amino acid and is the only naturally occurring beta-amino acid. When engaging in intense training, the body will accumulate large amounts of hydrogen ions (H+), which cause the muscles' pH to decrease and become more acidic. When pH decreases, strength will also begin to subside and fatigue will set in. These limitations hinder you from adequately overloading your muscles and inhibit muscle gains. By supplementing with beta-alanine, the body's carnosine levels will increase. Carnosine acts as an intracellular buffer, which aids in stabilizing muscular pH by soaking up hydrogen ions that are released during exercise.*
Agmatine Sulfate
Agmatine (4-aminobutyl) guanidine, NH2-CH2-CH2-CH2-CH2-NH-C(-NH2)(=NH)), is a byproduct of the amino acid Arginine and acts as an intermediate in polyamine biosynthesis. It is generated through a process referred to as decarboxylation which is a chemical reaction that releases carbon dioxide (CO2); it is essentially Arginine with the carboxylic acid end eliminated. Agmatine is synthesized in the brain, stored in synaptic vesicles, collected by uptake, discharged by membrane depolarization, and inactivated by agmatinase.*
As a result of these effects, supplementing any athletic and/or bodybuilding regimen with Agmatine may improve athletic performance, increase fat loss, and increase muscle size, vascularity, and fullness. Additional benefits including protection against free radical damage, antidepressant effects, and enhanced recovery mechanisms also add to the quality of everyday life. Arginine was the 'miracle worker' of its time, but Agmatine appears to be an even better supplemental option in regards to body physique advancements and performance.*
Malic Acid
Malic acid is a dicarboxylic acid made by all living organisms. It is formed in metabolic cycles in the cells and is produced and broken down in the human body every day. Malic acid is involved in cell metabolism and is the source of adenosine triphosphate (ATP), which assumes a central role in the energy production rates of all cells in the human body. For instance, in both the glyoxalate and Kreb cycles, it provides the cells with carbon skeletons and energy for the formation of amino acids.*
L-Norvaline
L-Norvaline is a version of the branched chain amino acid, valine. It is found in various foods such as meats, grains, dairy, peanuts and soy products. L-Norvaline is involved in the indirect increase of nitric oxide levels in the blood. It is an inhibitor of the enzyme, Arginase, which is utilized in the breakdown and removal of Arginine into urea. Arginine acts as a precursor to nitric oxide, thus the inhibition of arginase will increase the concentration of Arginine, resulting in an increase in nitric oxide production.*
L-Histidine
L-Histidine is a derivative from the amino acid, Histamine. Histamine is a hormone/chemical transmitter involved in the regulation of stomach acid production and serves as a mediator of immediate hypersensitivity in allergic reactions. When released from cells, histamine causes vasodilation and plays a key role in the production of red and white blood cells. Supplementation with histidine has been shown to increase muscle carnosine concentrations. When combined with beta-alanine, the effects are enhanced.*
Cellular Augmentation System
Creatine Monohydrate
Creatine Monohydrate is one of the original forms of creatine that was introduced in the form of a supplement. It is a compound made up of three amino acids: Arginine, Methionine, and Glycine, and is produced primarily in the liver. It can also be found in various meats and fish. Creatine provides additional energy to the muscles, acts as a lactic acid buffer, serves as a hydration mechanism for the cells, and enhances protein synthesis.*
Creatine MagnaPower
The full potential of creatine as a supplement is limited by the lactamation reaction, which alters a major part of the creatine consumed into inert creatinine; this reaction binds the amino group of creatine with its acid group. This reaction will essentially lock up the creatine molecule, transforming into creatinine and making it anabolically inert. Creatine MagnaPower eliminates this disadvantage by mixing the creatine with magnesium. Magnesium has strong alkali properties that decrease the environmental acidity of creatine and maintain it in its ready-to-use solution.*
Creatine Pyruvate
Pyruvate is a by-product produced in the body during the normal metabolism of proteins and carbohydrates. When glucose is broken down, it produces two molecules of pyruvate; when oxygen levels in the body are high, the pyruvate breaks down into carbon dioxide via a series of reactions in the Krebs cycle. When oxygen levels in the body are insufficient, pyruvate is broken down, anaerobically, to form lactic acid. Increased levels of lactic acid elicit decreased performance levels. Creatine pyruvate introduces lactic acid buffering properties and extends this process so an athlete can train for longer durations of time. Pyruvate also promotes glucose extraction from the bloodstream and into the muscle tissues.*
Di-Creatine Malate
Di-Creatine Malate is a highly soluble creatine salt that enhances the creatine bioavailability over regular creatine monohydrate. This particular compound of creatine is combined with malic acid, which plays a natural role in our energy cycle. Malic acid and creatine combined offers a much greater rate of ATP production and may help enhance athletic performance and endurance.*
Bioperine
Bioperine is an extract from the black pepper fruit that is grown in nutrient-rich soils. This extract of piperine has been clinically tested in the United States and has been shown to significantly enhance the bioavailability of various supplemental nutrients via increased absorption.*
Enerplex Intensity & Focus Amplifier
L-Taurine
Taurine is a derivative of the amino acid, cysteine, which contains a sulfhydryl group. It occurs naturally in seafood and meat. It has been suggested that Taurine is necessary for the proper functioning and maintenance of skeletal muscles, as well as an essential component to cardiovascular function.*
Caffeine
Caffeine is the most commonly consumed drug in the world, as it is inexpensive, medically safe and legal. Caffeine acts as a central nervous system stimulant and promotes mental alertness, focus, and can facilitate overall body coordination. It has been shown to increase physical endurance and delay onset of fatigue. In combination with other ingredients (as seen in Juggernaut HP), caffeine seems to aid in short-term weight reduction.*
L-Tyrosine
L-Tyrosine is a non-essential amino acid with a polar side group found in foods such as fish, dairy and meat. L-tyrosine is a precursor to several neurotransmitters including epinephrine. These chemicals are in charge of various functions such as energy, mood and appetite. Tyrosine has been shown to enhance the metabolic rate of the body.*
References
Antonio, J (2004). Caffeine: The forgotten ergogenic aid. Journal of Strength & Conditioning. 26(6): 50-51.
Brosnan J, Brosnan M (2006). The sulfur-containing amino acids: an overview. J Nutr 136 (6 Suppl): 1636S-40S.
Cannan RK & Shore A. (1928). The creatine-creatinine equilibrium. The apparent dissociation constants of creatine and creatinine. Biochem. J. 22 (4): 920-29.
Chang C, Liao JC, Kuo L (1998). Arginase modulates nitric oxide production in activated macrophages . American Journal of Physiology. 274(1), 342-348.
Francaux M, Poortmans JR (2006). Side effects of creatine supplementation in athletes. International Journal of Sports Physiology and Performance 1 (4): 311-23.
Hoffman J, Ratamess N, Kang J, Mangine G, Faigenbaum A, Stout J (2006). Effect of Creatine and ß-Alanine Supplementation on Performance and Endocrine Responses in Strength/Power Athletes. IJSNEM, 16(4).
Jensen WB (2007). The origin of the names malic, maleic, and malonic acid. J. Chem. Educ. 84, 924.
Kalra, S.P., et al. Agmatine, a novel hypothalamic amine, stimulates pituitary luteinizing hormone release in vivo and hypothalamic luteinizing hormone-releasing in vivo. Neuroscience Letters. 194 (3): July 21, 1995; 165-168.
Lieberman HR, Corkin S, Spring BJ, Wurtman RJ, Growdon JH (1985). The effects of dietary neurotransmitter precursors on human behavior. Am J Clin Nutr. 42 (2): 366-370.
Raghavan SA, Dikshit M. Vascular regulation by the L-arginine metabolites, nitric oxide and agmatine. Pharmacol Res. 49(5):397-414. Review, 2004.
Salah E, Garbilla, Alan J Sinclair (2000). Carnosine: Physiological properties and therapeutic potential. Age and Ageing. 29: 207-210.
Zoeller RF, Stout JR, O'kroy JA, Torok DJ, Mielke M (2006). Effects of 28 days of beta-alanine and creatine monohydrate supplementation on aerobic power, ventilatory and lactate thresholds, and time to exhaustion. Amino Acids, 1-6.