Quick Links to Best Prices Price History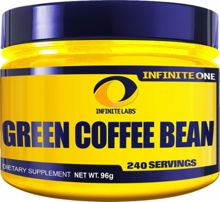 Infinite Labs Green Coffee Bean
Green Coffee Bean:is essentially a coffee bean prior to roasting while still in its raw state. Because Green Coffee Beanonly contains 20 mg of caffeine per serving, you are void of the jitteriness associated with a standardstimulant when adding it to your supplement regimen.*

A lack of energy can impact many things when it comes to achieving your fitness and health goals. Being tiredcan work against you, and once you become tired, you may be putting your metabolism at risk causing the storageof unwanted fat cells.* If you are having trouble getting through the day and need to add a little energy withoutbeing overly stimulated…
DONT WORRY BECAUSE
INFINITE ONE
IS HERE TO HELP!
With Infinite ONE, you now have the ability to add Green Coffee Bean to any existing supplementor even make your own energy product.*

Stacking Infinite ONE
The Basics:
Add To:
Stimulant free pre work out.*
Your morning shake to ensure you have clean energy to get your day started.*
Remember that all Infinite ONE products have a recommended dosage that should not be exceededwhen mixing with other supplements or making your own.*
NO FILLERS. NO FLAVORING.
KNOW EXACTLY WHAT YOU'RE GETTING.
IT'S TIME TO EVOLVE