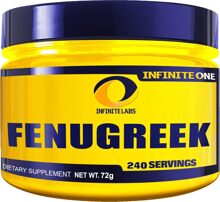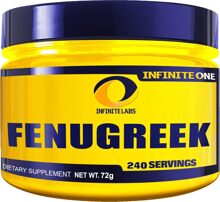 Fenugreek: is a natural herb native to southern Europe and Asia. It has been suggested to support healthy hormonelevels and support a normal response to glucose.* Fenugreek may support sexual health and help as anappetite stimulant.*

It is important to understand exactly what your body needs to be healthy both in and outside of the gym.Whether it is general health or for muscular development, your body relies on natural resources to operateand function properly.* If you do not think your body has what it needs to regulate hormonal energy…
DONT WORRY BECAUSE
INFINITE ONE
IS HERE TO HELP!
With Infinite ONE, you now have the ability to add Fenugreek to any existing supplement or even make your own test booster supplement.*

Stacking Infinite ONE
The Basics:
D-Aspartic Acid
Tyrosine
Vitamin D
Add To:
Infinite Labs Pro DHEA DHEA
(Recommendation: Mix with orange juice and consume with a serving of DHEA).
Your afternoon serving of Infinite Pro Whey Isolate.
Remember that all Infinite ONE products have a recommended dosage that should not be exceededwhen mixing with other supplements or making your own.*
NO FILLERS. NO FLAVORING.
KNOW EXACTLY WHAT YOU'RE GETTING.
IT'S TIME TO EVOLVE