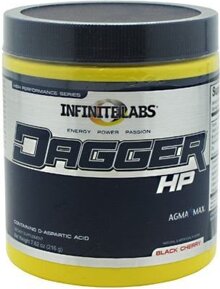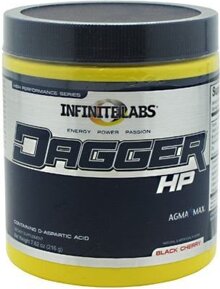 Product Information
Infinite Labs Dagger 30 serving

Creatine Matrix:
Dagger incorporates three different forms of creatine (Creatine MagnaPower, Creatine Monohydrate, Creatine HCL) into its high-performance formula to ensure ergogenic amounts of creatine are reaching those working muscles. The creatine-magnesium combination of Creatine MagnaPower has been shown to enhance ergogenic activity. Scientifically arranged with Creatine Monohydrate and Creatine HCL, this stack enhances essential oxygen delivery to muscle tissues and ensures a higher level of absorption.

Testosterone Enhancer Stack:
Dagger™ utilizes Fenugreek and Tribulus into its Testosterone Matrix to support testosterone levels in the body and to also effectively improve creatine uptake into the muscles. GlycoCarn is a research-based, patented compound composed of glycine propionyl L-carnitine that has been shown to enhance nitric oxide synthesis in humans, causing vasodilation and increased oxygen uptake of working muscles. In order to ensure optimal absorption and utilization, Dagger combines three different forms of D-aspartic acid, including the highly soluble and bioavailable form D-Aspartic Acid Calcium Chelate, to maximize the release and synthesis of luteinizing hormone (LH) and testosterone. In combination with the lipid-lowering effects of Calcium D-glucarate and L-carnitine Tartrate, the Testosterone Enhancer Stack of Dagger systematically sets you up for the most effective workout.

Dagger contains ingredients such as Diindolymethane (DIM) to further enhance the effects of circulating testosterone in the body. DIM is known for its ability to convert active estrogens into inactive estrogen metabolites. These metabolites essentially free up the testosterone molecule by separating them from the testosterone-binding proteins, such as sex hormone-binding globulin; this ultimately promotes the circulation of free testosterone. Along with DIM, Chrysin is also included in this matrix for its suggested role in limiting aromatase activity – the conversion of testosterone into estrogen. These, in combination with the natural testosterone-boosting effects of Japanese Knotweed Root, minimize the presence of estrogen molecules in the body and ultimately promote the utilization of testosterone. Bioperine is also incorporated into this stack to enhance the bioavailability of these components via increased absorption rates.

Stamina Stack:
Dagger has combined specific forms of L-tyrosine with Rhodiola rosea to intensify mental clarity and focus. Other ergogenic components such as Malic Acid, Glucuronolactone, Pygeum Africanum and Maca are introduced into this stack to increase stamina and counteract those feelings of fatigue that have a tendency to sneak in at points throughout your workout.1

Directions: On Workout days, take one serving (one scoop) with 6 to 8 ounces (178 to 237 ml) of water on an empty stomach approximately 30 minutes prior to training. Do not exceed one scoop before training or in a 24 hour period. On Non-Training days, take one serving (one scoop) with 6 to 8 ounces (178 to 237 ml) of water. For best results take Dagger on an empty stomach. To avoid sleeplessness do not take within 4 hours of bedtime.

Warning: Do not exceed recommended dose. Consult your physician prior to using this product if you are pregnant, nursing, taking medication, under 18 years of age or have a medical condition including but not limited to high or low blood pressure, cardiac arrhythmia, stroke, heart, liver, kidney or thyroid disease, seizure disorder, psychiatric disease, diabetes, difficulty urinating due to prostate enlargement or if you are taking an mao inhibitor (maoi). Discontinue use immediately if you experience any adverse reaction and consult your physician. Do not use if tamper resistant seal is broken. Keep out of reach of children. Store in a cool dry place.

Other Ingredients: Malic Acid, Sucralose, Natural And Artificial Flavor, Citric Acid, Acesulfame Potassium, Red #40.

Note: Ingredients and Nutrition Data are for the Black Cherry flavor. Other flavors may vary.
These statements have not been evaluated by the Food and Drug Administration. This product is not intended to diagnose, treat, cure, or prevent any disease.
1: Individual results may vary. Reviews are based on the experiences of a few people and you may not have similar results.