Warning: This product is not currently available at any store.
Click the button above and PricePlow will email you when the first store has it in stock!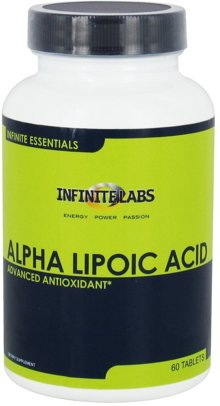 Infinite Labs Alpha Lipoic Acid
Few Things Are as Essential as Good Health
Increased Energy Production*
Universal Antioxidant Properties*
Cardiovascular Health Support*
Alpha lipoic acid is a fatty acid located naturally inside every cell in the human body. ALA can also be found in foods such as spinach, peas, broccoli, rice bran, and brussel sprouts. Its primary function in the body is to stimulate enzymes that manage energy producing molecules, such as pyruvate, and to break down products from amino acids. Essentially, ALA helps us absorb nutrients and collect energy from the food that is consumed. The body necessitates ALA to produce energy; it plays a crucial role in the mitochondria, or the energy-producing structures of the human cells. ALA supplementation has also shown decreases in body weight in overweight subjects.*
When there is an excess of ALA available, it also acts as an antioxidant by neutralizing potentially harmful radicals. Due to the minimal free ALA circulating in the body, it is necessary to incorporate supplemental ALA in order to enhance its antioxidant effects. Unlike the more common antioxidants, Vitamins C and E, ALA can function in water and fat and appears to be able to recycle various antioxidants after they have been used up. To illustrate, glutathione is a vital antioxidant that facilitates the body''s elimination of potentially harmful substances. It is synthesized from the sulfur-containing amino acid cysteine. The availability of cysteine inside a cell determines its rate of glutathione synthesis. DHLA, the reduced form of ALA, has been shown to enhance the uptake of cysteine by cells in culture, leading to increased glutathione synthesis.*
Supplementing with alpha lipoic acid is of particular importance to bodybuilders and athletes due to the amount of oxidative damage that is a direct result of intensive training regimens. Oxidative damage lets loose these free radicals throughout the body, which is why antioxidants, both natural and supplemental, are vital.*
References
Bustamante J, Lodge JK, Marcocci L, Tritschler HJ, Packer L, Rihn BH (1998). Alpha-lipoic acid in liver metabolism and disease. Free Radic Biol Med. 24(6):1023-39.
Egan BM, Greene EL, Goodfriend TL. (2001). Nonesterified fatty acids in blood pressure control and cardiovascular complication. Curr Hypertens Rep. 3(2): 107-16.
Logan AC, Wong C (2001). Chronic fatigue syndrome: Oxidative stress and dietary modifications. Altern Med Rev. 6(5):450-9.
Streeper RS, Henriksen EJ, Jacob S, Hokama JY, Fogt DL, Tritschler HJ. (1997). Differential effects of lipoic acid stereoisomers on glucose metabolism in insulin-resistant skeletal muscle. AM J Physiol. 273: E185-91.
Eunheui J, a Dong Woo K, a Min-Seon K, a Joong-Yeol P, a Keun-Gyu P, Hyo-Jung L, In-Kyu L, Soo L, Hak Chul J, Ki Hoon L & K-Up L (2011). Effects of alpha-lipoic acid on body weight in obese subjects. The American Journal of Medicine. 124, 85. e1-85. e8.