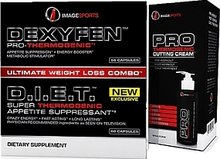 Image Sports Shredded Kit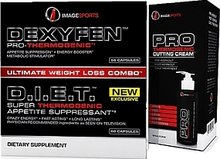 Image Sports Shredded Kit
ULTIMATE WEIGHT LOSS COMBO*DEXYFEN
APPETITE SUPPRESSION*
ENERGY BOOSTER*
METABOLIC STIMULATOR*
DEXYFEN is a top-shelf, Pro-Thermogenic, Fat Modulating capsule that is formulated to help suppress appetite, burn fat, and maximize energy.* The compounds in each single-capsule serving are specifically dosed, with analytical precision, to provide a metabolic pace unlike any other.*
DEXYFEN is a weight modulating masterpiece.*
D.I.E.T.
CRAZY ENERGY*
FAST ACTING*
LONG LASTING*
D.I.E.T. is an Extremely Powerful NON-STIMULANT Fat Burner designed to Metabolically Enhance every aspect of your body. With the help of several PHYSICIAN RECOMMENDED ingredients as SEEN ON TELEVISION, we were able to create a SUPER THERMOGENIC that can help you TRANSFORM from the "Before picture" to "After". The Non-Stimulant based ingredients in D.I.E.T. allow you to take this formula in the evening without the concerns normally associated with Weight Loss products, such as sleeplessness or agitation. This formula works synergistically with DEXYFEN as an AM/PMstack or incredible on its own.*
D.I.E.T. is a Complete Assault on FAT LOSS and the go-to WEIGHT LOSS product used by Trainers, Athletes, and Competitors looking for that all around physique edge.*
D.I.E.T. - DYNAMIC IMMEDIATE ENERGY TREATMENT
Pro Thermogenic Cutting Cream
PRE-WORKOUT
POST-WORKOUTDAILY PROTOCOL
Arms
Abs
Legs
Cheast
Forearms
* These statements have not been evaluated by the Food and Drug Administration. This product is not intended to diagnose, treat, cure, or prevent any disease.