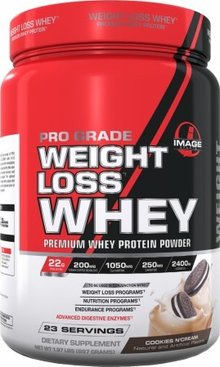 Image Sports Pro Grade Weight Loss Whey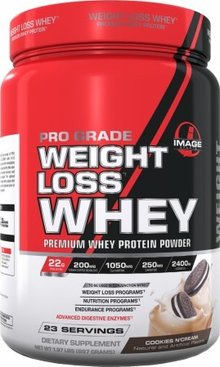 Image Sports Pro Grade Weight Loss Whey
EVERY ATHLETE

GET LEAN
GET HARD
GET FIT*
May Experience:
MOUTHWATERING
FLAVOR*
WEIGHT LOSS*
LEAN MUSCLE*
ADVANCED ENZYME
DIGESTIVE SUPPORT*
PRO GRADE WEIGHT LOSS WHEY is an ultra premium blend of whey protein that features 4 ingredients designed to promote weight loss. PRO GRADE WEIGHT LOSS WHEY was formulated to elicit every single solitary mouthwatering taste bud sensation while helping to promote results. We have handcrafted this protein powder utilizing only the finest ingredients and manufacturing processes necessary to build such a masterpiece. Every scoop of protein is performance driven to exceed your expectations. It is by far and away, the newest and most groundbreaking approach to promote weight loss.*†
22G
PROTEIN
200MG
GREEN COFFEE BEAN EXT
1050MG
CLA MATRIX
250MG
CARNITINE
2400IU
VITAMIN D3
PER SCOOP
WEIGHT LOSS PROFILE:*†
GREEN COFEE
BEAN EXTRACT
CLA MATRIX
Green Coffee Bean Extract: Is a natural source of chlorogenic acids. Chlorogenic acids are phenolic compounds with antioxidant properties that have been shown to have beneficial effects on metabolism and cardiovascular health.*†
CLA Matrix: Researchers theorize CLA (conjugated linoleic acid) has properties that may support weight loss programs.*†
CARNITINE
VITAMIN D3
Carnitine: Carnitine plays a critical role in energy production and fat oxidation.*†
VITAMIN D3: Healthy VITAMIN D levels are believed to play an important role in the regulation of body fat.*†
† When combined with a proper exercise and nutrition regimen. Statements based on early-stage independent3rd party in vivo and / or in vitro model scientific research data findings for individual ingredients.