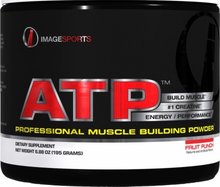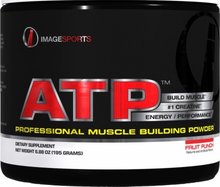 BUILD MUSCLE
GET STRONGER*†
PROFESSIONAL GRADE CREATINE FORMULA
ATP IS THE ULTIMATE PRE-INTRA-POST FORMULA AND BETTER YET IT TASTES ABSOLUTELY INCREDIBLE!
ATP is a monumental muscle building formula. ATP contains research tested Creatine Monohydrate, which for many years now has been one of the best studied and most widely utilized ingredients in sports nutrition. Creatine is essential for any bodybuilder or athlete, as it is widely distributed in skeletal muscle and supplies energy to the cells by way of increasing adenosine triphosphate (ATP).*†
ATP is used for improvement in exercise performance, enhancement of mitochondrial function, and, of course, muscle function, mass, and energy metabolism.*† ATP also utilizes a stable form of Glutamine (Magnesium Glycl Glutamine), Glycine was also added, which has pronounced functions in the body.*†
LONGER, BETTER WORKOUTS ARE OF COURSE A KEY IN ANY FITNESS PROGRAM.*†
Glycine is necessary for the creation of genetic building blocks necessary for proper cellular function. Glycine is also a sub-strate required in the formation of Creatine, and is the primary component of connective tissue that makes up a good portion of skin, tendons, and ligaments. Moreover, Glycine is a glucogenic amino acid, acting to help regulate blood sugar and provide glucose to body tissues for energy.*†
ATP also contains Glycerol, which is an often overlooked but important compound in a complete sports nutrition regimen. For starters, Glycerol increases osmolarity—a state wherein, when combined with aqueous solution, hyper hydration occurs. Sustained hydration during exercise may increase performance, and significantly increases energy and the length of time until onset of fatigue.
† When combined with a proper exercise and nutrition regimen. Statements based on early-stage independent 3rd party in vivo and / or in vitro model scientific research data findings for individual ingredients.