Quick Links to Our Prices
How does this work and how do stores get listed? See our disclosure below to learn more. Price History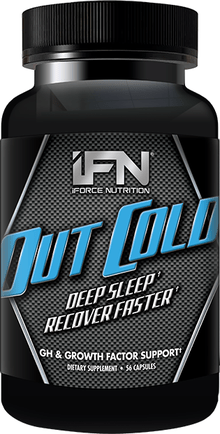 Gain Muscle, burn fat!*
Supports healthy sleep!*
Promote Recovery!*
Support HGH Levels!*
Out Cold utilizes the most tested and science-backed HGH supports to help support natural HGH levels.* Featuring patent protected Embryonic Peptides, the highest dose of the powerful natural HGH booster ever discovered, in addition to a mix of ingredients specifically designed to not only help you lose fat and build muscle, but to help you sleep, and help keep you asleep!*
Humanofort:
This peptide is made up of numerous low molecular weight oligopeptides that are capable of quick absorption and utilization in your body. This peptide is actually made up of numerous different growth factors:
FGF (fibroblast growth factors)
NGF (nerve growth factors)
EGF (epidermal growth factors)
CTGF (connective tissue growth factors)
TGF-β (transforming growth factors)
FOLLISTATIN (also known as activin-binding protein
Tβ4 (thymosin beta-4)
Mucuna Pruriens(50% L-Dopa):
L-Dopa is a naturally occurring compound that is capable of supporting the Dopamine levels in our brain. By promoting healthy dopamine levels, we may help support our HGH production! *
5-Hydroxytryptophan:
This naturally occurring amino acid is helpful in producing Serotonin. Serotonin helps us relax, reduce our appetite, and put us into a deep restful sleep. Widely used to help with dieting, 5 HTP supports production of serotonin.* Serotonin levels in the nervous system are essential for so many aspects of our daily lives. Serotonin is responsible for feelings of well being, satisfaction and for normal sleep patterns. Serotonin plays an important role in regulating mood, sleep, appetite, and metabolism.