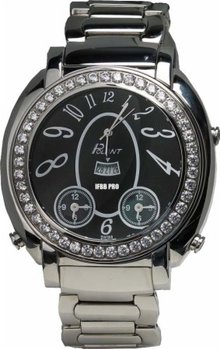 IFBB Pro Watches Heavy Hitter W/White Sapphire Bezel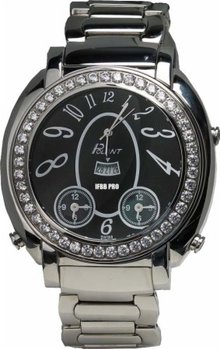 IFBB Pro Watches Heavy Hitter W/White Sapphire Bezel
IMPORTANT SHIPPING INFORMATION
Delivery in the Continental U.S. only. This item is ground shipped by the manufacturer and may take up to 14 days to reach its new home. Trust us - it's worth the wait!
Note:
All IFBB PRO Watches ship directly from manufacturer. Please review return policy.
Prepare to get noticed!
Big, bold and impressive - this IFBB PRO Heavy Hitter by Polanti features a beautiful bezel with 45 round brilliant-cut white sapphires, with an approx. total weight of 8 carats. Wear this stunning champion-sized watch built for a powerful wrist - and you´ll feel the weight of 10 solid ounces of Swiss engineering, durable mineral crystal face surrounded by a substantial gleaming stainless steel case and band. A plain bezel, which can be switched by the wearer to fit the occasion, accompanies the watch.
A trophy for your watch collection, or a winning gift for someone special. Scribed on the black dial is the elite "IFBB PRO" brand imprint along with the watchmaker brand "Polanti."
Movement:
Swiss
ETA quartz
Hours, minutes, seconds
Date display
Case:
Stainless steel
Water resistant to 3 ATM (30 meters)
Mineral crystal
Dimensions 55mm x 62mm x 16mm
Strap:
Stainless steel bracelet - adjustable
Full band length 9 inches
Band width 26 mm
Deployment buckle
For larger wrist sizes, extra links available upon request at no cost
Special Features:
White sapphire bezel, 45 round brilliant-cut, approx. total weight 8 carats
Comes with additional plain bezel that can be switched by wearer for a different look
Black dial with silver tone numerals
2 subdials in black mother of pearl
Push / pull crown
By Polanti; imported
Packaging: Timepiece comes packaged in a distinctive Polanti watch box with guarantee and instruction manual.
Warranty: 1 year limited warranty provided by Polanti.
Shipping Info:
Shipped directly from Polanti, IFBB PRO Special Edition Watches are only available to mailing addresses within the USA, except for Puerto Rico and U.S. military bases.
About IFBB PRO Special Edition Timepieces by Polanti
Watch aficionados rave about the exquisite IFBB PRO Special Edition Timepieces by Polanti. Innovative in design and superior in craftsmanship, IFBB PRO Special Edition Timepieces by Polanti are available in a range of colors and styles. The pinnacle of the sport - IFBB PRO is proud to introduce unique and collectible limited production timepieces crafted with attention to detail, passion and high standards.
IFBB PRO Special Edition Timepieces by Polanti are available in a range of colors and styles, innovative in design and superior in craftsmanship.
All watches in this special edition collection identify the elite IFBB PRO status mark on the dial. Both men´s and women´s models are available.
Quantities are limited. Be a part of the select few who experience the pride of wearing an official IFBB PRO branded timepiece. Order yours before the exclusive IFBB PRO special edition models sell out!
About Polanti
The Polanti line was first introduced in Los Angeles at the turn of the century and quickly gained fame within the entertainment industry. Polanti watches can now be found on the wrists of IFBB Pro athletes and Hollywood´s finest.
Polanti watches are especially prized for their custom look, feel and impeccably crafted quality - a remnant and hallmark of the company´s beginnings as a premier custom watchmaker. Selling over tens of thousands of watches during its first few years in production, Polanti´s craftsmen have over 25 years of watch making experience.