Quick Links to Best Prices Price History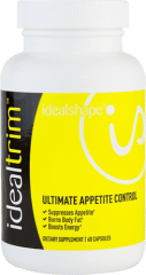 ALL-NATURAL HUNGER CONTROLLING SUPPLEMENT
SUPPRESS APPETITE AND CRAVINGS
INCREASE METABOLISM AND THERMOGENESIS
BOOST ENERGY LEVELS AND FOCUS
LOSE WEIGHT AND BURN BODY FAT
UTILIZES THE POWER OF NATURAL EXTRACTS
Some of the most powerful and effective weight loss extracts have been found in nature. IdealTrim combines the most effective natural weight loss extracts in one convenient capsule that provides powerful all-natural hunger control. The main ingredient, Slendesta, is a potato protein extract that triggers the natural release of CCK, the hormone that tells your brain you're full.[1] This helps you control your appetite and feel full, satisfied, and satiated as you stick to your diet and goals.
IdealTrim also contains green tea and resveratrol, extracts that have been found to increase thermogenesis[2] and metabolize calories more efficiently.[3] This fat fighting combination increases the amount of calories your body burns per day, helping you lose more weight in a shorter period of time – safely and naturally!
In addition, IdealTrim features kelp, a rich source of iodine, a mineral that supports thyroid function and helps the body burn through calories and fat stores.[4] The antioxidant benefits of IdealTrim support and protect the overall health and function of your body as you lose weight and slim down.
Take IdealTrim daily for lasting control over your appetite and eliminate pesky cravings. Gain control and see results with the appetite suppressing, fat burning formula of IdealTrim.
References [+]
References [-]
[1] Douglas Laboratories. Gly-Sea-Max: Helps Moderate Normal Glycemic Response After Meals. Pittsburgh, PA. 2006.
[2] Shixian Q, et al. Green Tea Extract Thermogenesis-Induced Weight Loss by Epigallocatechin Gallate Inhibition of Catechol-O-Methyltransferase. Journal of Medicinal Food. 9:4. (2006): 451-458.
[3] Marques MZ, et al. Resveratrol: Cellular Actions of a Potent Natural Chemical that Confers a Diversity of Health Benefits. The International Journal of Biochemistry & Cell Biology. 41:44. (2009) 2125-2128.
[4] Brownlee I, at el. The Potential Health Benefits of Seaweed and Seaweed Extract. Seaweed: Ecology, Nutrient Composition, and Medicinal Uses. (2012): 119-136.
* RESULTS MAY VARY