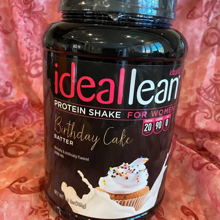 IdealFit IdealLean Protein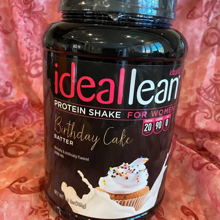 IdealFit IdealLean Protein
A PROTEINSHAKEMADE JUST FOR
YOU
ONLY

80 CALORIES

PER SERVING

DELICIOUSLY

SMOOTH, CREAMY TASTE
FORMULATED

SPECIFICALLY

FOR WOMEN
0,0,0
FAT, SUGAR, & CARBS
20
mg
PROTEIN PER SERVING
---
100
%
WHEY PROTEIN ISOLATE
A PROTEIN THAT MEETS THE SPECIFIC NEEDS OF WOMEN
Finally, a protein shake designed just for women to satisfy hunger and provide real muscle toning results. IdealFit IdealLean provides a full spectrum of essential nutrients, quality calories, and optimal levels of the highest quality proteins for muscle support and fat loss. IdealLean is packed with L-Glutamine and superfruits (including Acai and Blueberry) to help your body recover from any challenge you take on. Get ready to be lean!
Unlike male protein powders, IdealLean isn't designed to get you bulky, but rather to help you build well-defined, toned muscle fully protected against catabolism.[1] IdealLean uses 100% pure Whey Protein Isolate, a fast absorbing protein source that is free of fat, carbs, and lactose and provides comprehensive support. With 20g protein at only 80 calories per serving, IdealLean helps satisfy your appetite and support a healthy weight.[2]
With IdealLean, you can fuel your body right. The IdealLean Proprietary Recovery Blend contains L-Glutamine to support immune health, glycogen storage, and muscle recovery.[3] The synergistic combination of Acai, Blueberry, and Mangosteen support a healthy metabolism[4] and optimize women's health, ranging from heart health to skin health.[5]
You deserve a protein shake just for you. The healthy combination of nutritious ingredients in IdealLean work together to support lean muscle tissue, fat loss, and energy in a deliciously satisfying shake that will become your healthiest meal of the day!
References [+]
References [-]
[1] Cribb PJ, et al. The Effect of Whey Isolate and Resistance Training on Strength, Body Composition, and Plasma Glutamine. International Journal of Sport Nutrition and Exercise Metabolism. 16. (2006): 494-509.
[2] Lejeune MP, et al. Additional Protein Intake Limits Weight Regain After Weight Loss in Humans. British Journal of Nutrition. 93:2. (2005): 281-289.
[3] Keast D, et al. Depression of Plasma Glutamine Concentration After Exercise Stress and its Possible Influence on the Immune System. The Medical Journal of Australia. 162:1. (1995): 15-18.
[4] Udani JK, et al. Effects of Acai (Euterpe Oleracea Mart.) Berry Preparation on Metabolic Parameters in a Healthy Overweight Population: A Pilot Study. Nutrition. 10:45. (2011): 1-7.
[5] Liu RH. Health Benefits of Fruit and Vegetables are From Additive and Synergistic Combinations of Phytochemicals. The American Journal of Clinical Nutrition. 102:1. (2015): 517-520.
* RESULTS MAY VARY