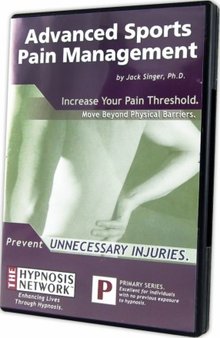 Hypnosis Network Advanced Sports Pain Management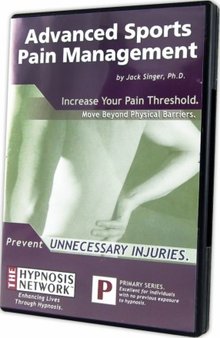 Hypnosis Network Advanced Sports Pain Management
Discover how to raise your pain threshold
in less than 21 days. Expert sports psychologist Dr. Jack Singer guides you through the same hypnosis-based pain management exercises that he has used with elite athletes, including the Air Force Academy football team.Are you are being slowed down by nagging injuries and chronic pain? As an athlete, you know that the pain associated with old injuries is one of the greatest barriers to your success. Being able to manage this can give you a competitive advantage over those who do not know how to apply these valuable skills. Even if you're not an athlete, the feeling of physical pain can detract from your overall feeling of well-being and can have negative effects on your work performance. It can also prevent you from sticking to a long-term exercise plan. Sound familiar?
A Natural Way to Control Pain
According to research done at the University of Iowa and published in the December 2004 issue of Regional Anesthesia and Pain Medicine, hypnosis can actually reduce activity in the pain network of the brain. Using functional magnetic resonance imaging (fMRI), researchers were able to see that the processing of the pain signal through the lower parts of the pain network looked the same in the brain images for both hypnotized and non-hypnotized trials, but activity in the top level of the network, which would be responsible for "feeling" the pain, was reduced under hypnosis." Click here to read the complete article.
University of Iowa News Release - March 14, 2005
Brain Imaging Studies Investigate Pain Reduction By HypnosisAlthough hypnosis has been shown to reduce pain perception, it is not clear how the technique works. Identifying a sound, scientific explanation for hypnosis' effect might increase acceptance and use of this safe pain-reduction option in clinical settings. Researchers at the University of Iowa Roy J. and Lucille A. Carver College of Medicine and the Technical University of Aachen, Germany, used functional magnetic resonance imaging (fMRI) to find out if hypnosis alters brain activity in a way that might explain pain reduction. The results are reported in the November-December 2004 issue of Regional Anesthesia and Pain Medicine.
The researchers found that volunteers under hypnosis experienced significant pain reduction in response to painful heat. They also had a distinctly different pattern of brain activity compared to when they were not hypnotized and experienced the painful heat. The changes in brain activity suggest that hypnosis somehow blocks the pain signal from getting to the parts of the brain that perceive pain."The major finding from our study, which used fMRI for the first time to investigate brain activity under hypnosis for pain suppression, is that we see reduced activity in areas of the pain network and increased activity in other areas of the brain under hypnosis," said Sebastian Schulz-Stubner, M.D., Ph.D., UI assistant professor (clinical) of anesthesia and first author of the study. "The increased activity might be specific for hypnosis or might be non-specific, but it definitely does something to reduce the pain signal input into the cortical structure."
The pain network functions like a relay system with an input pain signal from a peripheral nerve going to the spinal cord where the information is processed and passed on to the brain stem. From there the signal goes to the mid-brain region and finally into the cortical brain region that deals with conscious perception of external stimuli like pain. Processing of the pain signal through the lower parts of the pain network looked the same in the brain images for both hypnotized and non-hypnotized trials, but activity in the top level of the network, which would be responsible for "feeling" the pain, was reduced under hypnosis.
Initially, 12 volunteers at the Technical University of Aachen had a heating device placed on their skin to determine the temperature that each volunteer considered painful (8 out of 10 on a 0 to 10 pain scale). The volunteers were then split into two groups. One group was hypnotized, placed in the fMRI machine and their brain activity scanned while the painful thermal stimuli was applied. Then the hypnotic state was broken and a second fMRI scan was performed without hypnosis while the same painful heat was again applied to the volunteer's skin. The second group underwent their first fMRI scan without hypnosis followed by a second scan under hypnosis.
Hypnosis was successful in reducing pain perception for all 12 participants. Hypnotized volunteers reported either no pain or significantly reduced pain (less than 3 on the 0-10 pain scale) in response to the painful heat. Under hypnosis, fMRI showed that brain activity was reduced in areas of the pain network, including the primary sensory cortex, which is responsible for pain perception.
The imaging studies also showed increased activation in two other brain structures -- the left anterior cingulate cortex and the basal ganglia. The researchers speculate that increased activity in these two regions may be part of an inhibition pathway that blocks the pain signal from reaching the higher cortical structures responsible for pain perception. However, Schulz-Stubner noted that more detailed fMRI images are needed to definitively identify the exact areas involved in hypnosis-induced pain reduction, and he hoped that the newer generation of fMRI machines would be capable of providing more answers.
"Imaging studies like this one improve our understanding of what might be going on and help researchers ask even more specific questions aimed at identifying the underlying mechanism," Schulz-Stubner said. "It is one piece of the puzzle that moves us a little closer to a final answer for how hypnosis really works.
"More practically, for clinical use, it helps to dispel prejudice about hypnosis as a technique to manage pain because we can show an objective, measurable change in brain activity linked to a reduced perception of pain," he added.
In addition to Schulz-Stubner, the research team included Timo Krings, M.D., Ingo Meister, M.D., Stefen Rex, M.D., Armin Thron, M.D., Ph.D. and Rolf Rossaint, M.D., Ph.D., from the Technical University of Aachen, Germany. University of Iowa Health Care describes the partnership between the UI Roy J. and Lucille A. Carver College of Medicine and UI Hospitals and Clinics and the patient care, medical education and research programs and services they provide. Visit UI Health Care online at www.uihealthcare.com.
What You Can Expect
When you're feeling pain and are not performing activities that are doing any further damage to the area where you feel pain, this program will help you reduce this pain to a manageable level.In many cases, the sessions in this program can virtually eliminate your perception of pain associated with activities that are not harming the affected area. This will enable you to train more effectively and perform without the distractions normally associated with pain. Although this program is specifically designed to help athletes, it can help anyone suffering from chronic pain. Think about it this way: if it is strong enough to help football players manage the inevitable pain associated with the game, it can definitely help the average person with the day-to-day discomfort associated with chronic pain.
How It Works
Chronic pain is often caused by emotions connected to an injury. Tension, anxiety, and worry are emotions typically associated with pain. In the first session you will learn to completely relax your body, especially the area where you are feeling pain. This ability to completely release this tension is the first and necessary step in achieving pain management. The next session will guide you through a powerful method called substitution. This is the same method used in dental procedures to numb areas worked on without anesthesia. You will be surprised at how easy it will be to learn how to numb and cool the area of the body where you are feeling pain. Finally, in the last and deepest session you will learn the ability to subconsciously control your pain threshold. You will actually be able to control the magnitude of pain sensations in a way that is similar to using the dimmer knob on a light switch.
Why This Program?
First of all, it works: "I had originally bought the pain management program to deal with the pain resulting from my knee surgery in December of 2004, little did I know I'd be using it for something completely different. I ended up breaking my wrist in June of 2005, about 2 weeks after originally buying the Pain Management sessions. It was a nasty colles fracture, and I ended up needing surgery and pins to keep the bones held together. Not being able to take the Darvocet that was prescribed, I decided to try the hypnosis sessions (with the ok from my doctor of course). While I can't claim that all pain was gone, I was able to manage my pain with nothing more than ibuprofen. My doctor was impressed and so was I. I am now using the pain management sessions to help me get through the pain of physical therapy. I can't thank you enough for helping me to get through a very trying few months."

A very satisfied customer,
Linda Bauer
Ham Lake, MN
Secondly, you will not find it anywhere else. Dr. Jack Singer created this program exclusively for The Hypnosis Network. And finally, whenever you buy any kind of hypnosis program, you need to be very careful about its source. Hypnosis is an unregulated profession, and there are plenty of people out there selling hypnosis products of questionable value. For instance, when you are researching someone who is practicing hypnosis, be wary of people who claim a "Doctorate in Clinical Hypnotherapy." There is no such thing. Furthermore, if a person claims that they are a Clinical Hypnotherapist and will not provide you with any educational background information, they are most likely hiding the fact that they have no formal education in a mental -health related field.
At The Hypnosis Network, every one of our therapists has a doctorate in a health care discipline. All are world-leading experts in their field. Dr. Jack Singer: One of the Top Sports Psychologists in the U.S. Dr. Singer is uniquely qualified to create this program for you. In addition to earning a Diplomate in Behavioral Medicine from the American Academy of Behavioral Medicine, Jack Singer, Ph.D. (often called "Dr. Jack") maintains a special certification in clinical hypnosis from the American Society of Clinical Hypnosis.
Dr. Singer is one of only a dozen or so sports psychologists around the U.S. who has this Clinical Hypnosis Certification and is recognized by the National Institute of Sports as a Certified Sports Psychologist (CSP). The Institute also honored Dr. Jack as a Diplomate Mental Health Service Provider in the field of Sports Psychology. This honor is bestowed only on one-half of one percent of the sports psychologists who apply for it. Dr. Singer regularly appears as a guest on sports talk radio and television shows around the U.S., including FOX Sports, ESPN, and the XTRA Sports in Southern California.