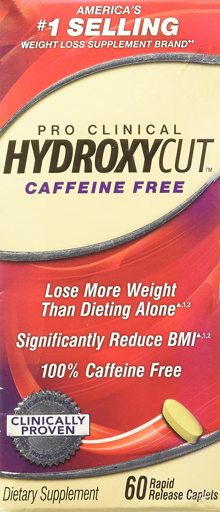 Hydroxycut Pro Clinical Hydroxycut - Caffeine Free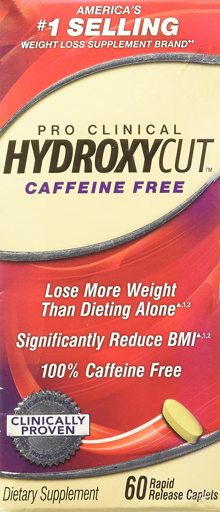 Hydroxycut Pro Clinical Hydroxycut - Caffeine Free
America's #1 Selling Weight Loss Brand♦♦
100 Million Bottles Sold
Lose Weight¹
Burn Calories²
Metabolize Carbs, Proteins & Fats³
Naturally Sourced Energy⁴
Essential Vitamins
Weight Loss - Key Ingredient - Scientifically Researched
Dietary Supplement
Lose Weight - Get Fit - Feel Great
Powerful Weight Loss
Hydroxycut is formulated with a scientifically researched key weight loss ingredient to produce significant weight loss results.¹
Burn Calories
Promotes increased energy expenditure to help you burn more calories.²
Naturally Sourced Energy
Naturally sourced coffee extract has been included to give you a clean energy boost.⁴
Essential Vitamins
Vitamin D has been added to help support general good health and B vitamins to help metabolize carbs, fats and proteins.
Apple Cider Vinegar
This popular ingredient has also been added in a convenient, easy-to-swallow capsule format for those who don't enjoy the tar taste of vinegar.
Lose Weight Fast | Scientifically Researched Key Weight Loss Ingredient
Study #1: 60 Days
Results from two randomized, double-blind, placebo-controlled studies.
¹Subjects taking the key ingredient in Hydroxycut (C. canephora robusta) for 60 days lost an average of 10.95 lbs. versus the placebo group, which lost an average of 5.40 lbs. Both groups followed a low-calorie diet. In a separate 8-week study, subjects taking C. canephora robusta lost an average of 3.7 lbs. versus the placebo group, which lost 1.25 lbs. Both groups followed a calorie-reduced diet and performed moderate exercise.
²In short-term studies, research shows that caffeine can help temporarily promote increased energy expenditure (calorie burning).
³Contains B vitamins, which help with the conversion of carbs, protein and fat.
4Contains naturally sourced caffeine to help increase energy.
♦Based on sales of Hydroxycut-branded products 1995 to present.
♦♦Based on AC Nielsen xAOC sales data for Hydroxycut caplets.