Quick Links to Best Prices Price History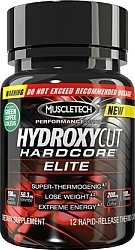 Hydroxycut Hardcore Elite
AMERICAS #1 SELLING WEIGHT LOSS SUPPLEMENT BRAND
New Hydroxycut Hardcore Elite
HYDROXYCUT HARDCORE ELITE is all-new and provides you with an unrivaled thermogenic experience, with potent amounts of green coffee, yohimbine, coleurs, L-theanine, theobromine and caffeine, this powerful formula delivers a one-of-a-king sensory experience and jacks up energy levels.
Super-Thermogenic Also Delivers Extreme Energy!
HYDROXYCUT HARDCORE ELITE contains a powerful super-thermogenic ingredient (caffeine anhydrous) thats been shown to deliver a seious boost for extreme energy after just one dose! its a thermogenic with unrivaled intensity.
Powerful Weight Loss Complex Tested in 2 Clinical Studies
In one study, subjects taking the primary ingredient (green coffee extract) in HYDROXYCUT HARDCORE ELITE for 60 days lost, on average, 10.95 lb