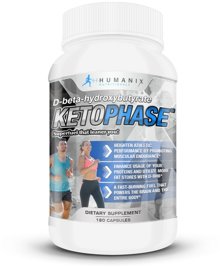 Humanix Nutritionals KetoPhase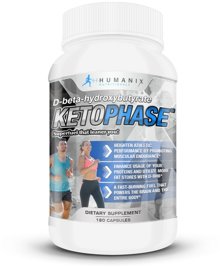 Humanix Nutritionals KetoPhase
KETOPHASE is a cutting edge super fuel that can be used to improve training performance while helping you get and stay fit*. Each capsule of KETOPHASE contains 600 mg of D-beta-hydroxybutyrate and is designed for serious athletes, fitness enthusiasts, or those implementing a keto-based diet. Ketones are the body's backup fuel — a highly efficient energy source the body creates when it is low on carbohydrates. Using KETOPHASE allows you to be carb and ketone "loaded", for athletic performance.

KETOPHASE contains NO carbs, NO caffeine, and 0 sugar! KETOPHASE contains the highest quality of exogenous ketones. KETOPHASE Heighten Athletic performance by promoting muscular endurance | Enhances usage of your proteins | Utilizes more fat stores with D-BHB | KETOPHASE is a fast-burning fuel that powers the brain and the entire body | 180 Dietary Supplement Capsules | Super fuel that leaner you today!

DESIGNED FOR ATHLETES: Ketosis can be induced by fasting as well as various dietary interventions such as a ketogenic diet. However, the increasing interest with achieving a ketogenic state has motivated the development of alternative approaches to rapidly increase Ketonemia (e.g. the presence of an abnormally high concentration of ketone bodies in the blood) using less drastic interventions, such as KETOPHASE.

CHARITABLE CAUSE: A percentage of every sale will be donated towards serving our military veterans in need and their families | Supporting our Veterans

SUGGESTED USE: As a dietary supplement, adults take (1) capsule six times a day with a meal. This product should not be taken on an empty stomach or between meals.
More