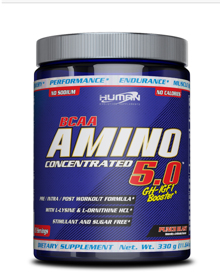 Human Evolution Supplements BCAA Amino 5.0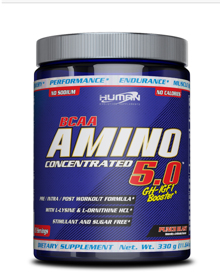 Human Evolution Supplements BCAA Amino 5.0
INSTANTIZED BCAAs
RECOVERY THAT HELPS BUILD MUSCLE WITH 1500mg L-LYSINE & 1500mg L-ORNITHINE HCL *
#OverRideYourLimits
NO FILLERS OR ELECTROLYTES*
STIMULANT & SUGAR FREE*
PRE | INTRA | POST WORKOUT FORMULA*
NO COLOR ADDED! MIXES COMPLETELY CLEAR!
BCAA AMINO 5.0 by Human Evolution Nutrition promotes the bodies ability to better utilize nutrients. This in turn can increase the dynamic action of:
Helping to increase the shuttling of amino acids into cells throughout the body. Amino Acids are the building blocks of protein which is necessary for protein synthesis to occur.*
Helping to slow the rate of catabolic protein breakdown.*
Doctors and athletes have looked for the best and most effective way to feed diseased or degraded cells from high intensity training. Thousands of new products come to market every year trying to help athletes recover faster and better than the training session before. Now with Amino 5.0, athletes taking in this unique formulation of Essential Amino Acids can begin to outperform their counterparts from years past. Bigger, faster and stronger recoveries allow the athlete to perform at an all time best.
IF WE ARE TALKING ABOUT TOTAL RECOVERY, WE ARE TALKING ABOUT AMINO 5.0.
Our advanced and super concentrated formula contains more L- Leucine, L-Isoleucine and L-Valine, for maximum absorption.
Amino 5.0 may help maximum absorption that could allow you to maintain muscle mass, avoid muscle breakdown and stimulate protein synthesis, reducing the potential of fatigue.
What makes Human BCAA Amino 5.0 different from over 100 amino acid BCAA formulas in the market?
Recovery. It's been the key for athletic performances in the last decade. The Human Evolution formula is different and more effective than other formulas with the addition of 1500mg of L-Lysine and 1500mg of L-Ornithine to help you recover faster after heavy-resistance exercise.