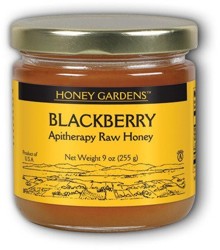 Honey Gardens Apitherapy Raw Honey - Blackberry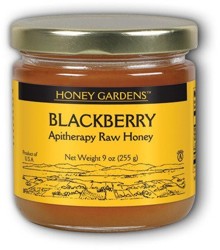 Honey Gardens Apitherapy Raw Honey - Blackberry
Apitherapy Raw Honey Blackberry 9 oz Glass Jar
Apitherapy Quality Raw honey sourced in the US Pacific Northwest
Blackberry honey is proud to claim its birthplace as the wild patches and farm-grown rows of blackberries grown among the Cascade Mountains of the Pacific Northwest. It is produced as the long, sunny days of spring slide into summer and honeybees tirelessly gather in precious blackberry nectar and transform it into honey. From there the honey is gently collected by beekeepers that share our commitment to ethical and sustainable beekeeping practices, and practice delicate handling of this golden nectar.
Supplement Facts
Serving Size 1 Tablespoon Servings Per Container 12
Amount Per Serving
% Daily Value***
Calories 60
Total Fat 0 g 0%
Total Carbohydrates 17 g 6%
Sugars 16 g
Protein 0 g 0%
Sodium 0 mg 0%
***Percent Daily Values are based on a 2,000 calorie diet
Other Ingredients Raw honey
Warnings Keep out of reach of children. As with all dietary supplements, consult your healthcare professional before use. See product label for more information.