Warning: This product is not currently available at any store.
Click the button above and PricePlow will email you when the first store has it in stock!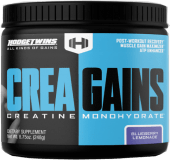 THE NATURAL SUPPLEMENT
HIGH-QUALITY PERFORMANCE TECHNOLOGY
MAXIMIZE YOUR GAINS
ENHANCE ATP LEVELS
EXPERIENCE THE POWER OF CREATINE
CONSISTENT RESULTS
Creatine within the sports nutrition industry has continuously grown because it is a natural supplement[1] that works! With consistent results in its ability to increase strength, reduce fat stores, and stimulate the growth of lean muscle mass[1], this ingredient is on every muscle building list. While the human body naturally produces creatine and it can be consumed through the diet, supplementation can increase the muscular force and power[2] for better performance and more muscle mass. This boom in creatine supplements is not lost on the HodgeTwins.
The HodgeTwins have taken advantage of creatine's popularity with their creation of CreaGains. Providing a blueberry lemonade flavored creatine formula, CreaGains provides a delicious tasting post-workout that will be able to enhance the recovery process[3] after high-intensity workouts. Focusing on using Creapure, the safest creatine with high-quality performance technology that is patented and made in Germany[4], CreaGains ensures that your body gets the very best creatine supply. It is also designed to maximize the gains you make in the gym to build more muscle mass and enhance the levels of ATP[3] within the body to provide more energy and lengthen endurance to experience your optimal athletic performance[5].
Experience the power of creatine with the formulation that CreaGains by HodgeTwins can provide you today!
References [+]
References [-]
[1] Cooper, R., Naclerio, F., Allgrove, J., & Jimenez, A. (2012). Creatine supplementation with specific view to exercise/sports performance: An update. Journal of the International Society of Sports Nutrition, 9, 33-33. Retrieved March 17, 2015.
[2] Persky, A., & Brazeau, G. (2001). Clinical Pharmacology of the Dietary Supplement Creatine Monohydrate. Pharmacological Reviews, 53(2), 161-176. Retrieved March 17, 2015.
[3] CreaGains Creatine Supplement. (2015, January 1). Retrieved March 17, 2015.
[4] Creapure – Not all creatine is created equal. (2011, January 1). Retrieved March 17, 2015.
[5] Rathmacher, J., Fuller, J., Baier, S., Abumrad, N., Angus, H., & Sharp, R. (2012). Adenosine-5′-triphosphate (ATP) supplementation improves low peak muscle torque and torque fatigue during repeated high intensity exercise sets. Journal of the International Society of Sports Nutrition, 9, 48-48. Retrieved March 17, 2015.
* RESULTS MAY VARY