Quick Links to Our Prices
How does this work and how do stores get listed? See our disclosure below to learn more. Price History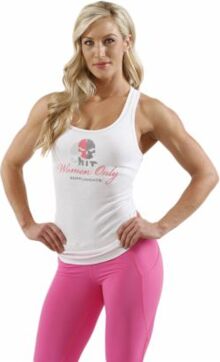 HIT Supplements Women's Only Tank
HIT Supplements Diva
Women Only Fat Burner
Enhanced Caloric Burn*
Prolonged Appetite Suppression*
Rapid Energy Amplification*
Complete Fat Burning Matrix*
Antioxidant Properties*
Promotes Elevated Fat Loss While Sparing Muscle*
di•va 'dé-və\ taken from the Latin diva, which means "goddess" or "divine one." A Diva is a woman who is strong, confident, and comfortable in her own skin; she should be treated with respect for her enormous talent and strong will. A true Diva will do anything to attain her dreams and can inspire others to do the same!
HIT Supplements Igniter Extreme Women Only
Women Only Pre-Workout
Creatine Monohydrate Promotes Muscle Vascularity, Contraction, and Growth*
Nitric Oxide Helps Signal and Regulate Muscle Growth*
Essential Amino Acids Including BCAAs*
Supports Intense Mental Focus Which Helps You Train Harder and Longer*
Delivers Vital Nutrients Required During Training and Recovery*
Promotes Stamina and Energy for Better Intensity, Strength, and Endurance*
Supports Recovery Before, During and After Exercise*
Delays Muscle Fatigue*
You take the time and energy to train because you know it will make you a better athlete, a healthier woman, and get you to the physique you truly want. The truth is, most women enter their workouts under-fueled and un-energized. With Igniter Extreme Women Only, your ordinary workout can become a thing of the past. Women can use many of the same supplements that men use, but they are often not formulated to truly accommodate the needs of the female body... when it comes to women's supplements, you do not need the same dose as a man! Igniter Extreme Women Only combines the optimum ratio of natural energizers, N.O. boosting ingredients, B vitamins, and rapidly absorbed free-form amino acids in the best possible amount for a woman's body. This formulation will help you satisfy the demands of your training sessions... no matter how intense they are. It will feed your muscles with everything they need during a high intensity workout.
HIT Supplements Pro Series Lanyard
Carry your keys or gym card anywhere your workout takes you with this bad-ass HIT Skull Lanyard.
HIT lanyard features custom HIT skull graphics
Simple key ring design
Carries your keys, ID badge, wallet, and more
Metal Split Ring
3/4" Wide by 16" long
HIT Supplements Sport Bottle
Size: Holds 27-oz.
Water bottle's contoured shape features finger grips for a comfy hold.
Tapered base fits standard auto cup holders.
These plastic sport bottles are made from 100% recycled post-consumer material This BPA-free sport bottle is made from #1 plastic, which can be recycled in most areas; check locally for more information.
All caps have a frosted chear tip.
Made in the USA.