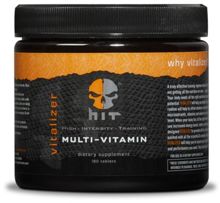 HIT Supplements Vitalizer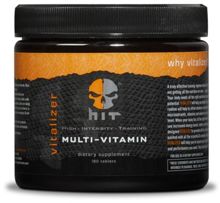 HIT Supplements Vitalizer
The Perfect Answer for
Maximum Vitality.
Intra-Cellular Recovery*
Enhanced Nutrient Absorption*
Support Immune Health*
High Potency B-Complex*
Performance Matters
Is your body getting all the right Nutritional components needed to reach your maximum training potential?
How We Made It Right
L-Citrulline
L-Citrulline is a precursor to Nitric Oxide which may improve vasodilatation*
L-Carnatine
Tartrate
Promotes strength and endurance, helps your body burn fat during exercise, relieves physical and mental fatigue, promotes and maintains new muscle development, and accelerates muscle regeneration while supporting energy production.*
Beta-Alanine
Helps to increase muscular strength and power output. Supports an increase in muscle mass, increases anaerobic and aerobic endurance, muscular endurance, and delays muscular fatigue.*
Full B-complex
High Potency
Essential for the metabolism of carbohydrates, fats and protein for the production of energy.*
WHAT Does Vitalizer Do?
A truly effective training regimen should not neglect good nutrition, but the fact is most of us are not getting all the nutrition we need... especially when we are pushing our bodies to extremes. Including HIT's quality multi-vitamin in your daily routine will help to offset whatever nutritional deficits may be holding back your gains. Essential micronutrients, vitamins and minerals are the building blocks of the body at the most primary level. When your body has all the right levels of vitamins and minerals working in harmony, you will support increased energy levels, better performance, and improved muscle growth.* HIT Supplements designed Vitalizer to provide all the critical vitamins and minerals your body needs.* Vitalizer is packed with all the essential B-complex vitamins, Beta-Alanine, L-Citrulline, and L-Carnitine.