Quick Links to Our Prices
How does this work and how do stores get listed? See our disclosure below to learn more. Price History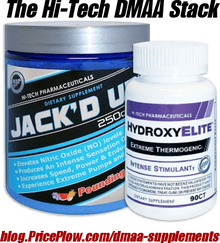 Hi-Tech Pharmaceuticals DMAA Stack
Missing Jack3d and Oxyelite?
Try Jack'd Up and Hydroxyelite by Hi Tech Pharmaceuticals. These products mimic the formula used by the most popular pre-workout and fat burner ever created with some small add-ins to enhance their effectiveness.

We miss the days where DMAA was in almost every energy based supplement on the market. The FDA has forced most companies to stop using this ingredient, but Hi Tech Pharmaceuticals refuses to stop making quality products with this highly potent ingredient. Make sure you get your hands on both of these supplements before they are gone forever!


JACK'D UP - The Ultimate Pre-Workout Formula

JACK'D UP is the Ultimate Pre-Workout formula and can be compared to a new and improved version of the original Jack 3D by USP Labs. USP Labs as most people know reformulated their product due to pressure from the FDA. Hi-Tech has created a similar product, but Hi-Tech improved upon their original formula in a few ways. Do you enjoy having tons of energy, strength, and endurance for your workouts? There's nothing like the right combination of compounds taken pre-workout to deliver consistently mind-blowing workouts to help you achieve your goals. After all, if your workouts are lacking, you can all but forget about making the type of progress you are looking for anytime soon.

Hi-Tech Pharmaceuticals Jack'D UP gives you all the aggression you desire and ability to lift more weight, pump out more reps and have incredible and long-lasting energy, along with enormous muscle-engorging pumps. Jack'D UP is the most intense pre-workout product you will ever want to use again. The amount of energy and focus is perfect, pumps and vascularity are out of this world, but most importantly you will feel great throughout your entire workout. No crash, no bloat, no headaches, no disappointing workouts. Suppz is the place to buy Hi Tech Pharma DMAA Stack supplements online with the best prices and customer service on the web.


1,3-Dimethylamylamine or Methylhexamine
This is a very powerful compound found in the geranium plant. It produces sympathomimetic effects in the body, resulting in strong Central Nervous System (CNS) stimulation, allowing for improved strength output, focus, alertness and mood. This is the main stimulant in many of your old favorites that have been reformulated but don't work the same any more. Hi-Tech continues to use 1,3 DMAA to bring you the most effect pre-workout product on the market.


Schizandrol A
Schizadra increases physical force. In essence, it is able to provide a stimulating effect to the body and mind. Treasured by Asian cultures for centuries, schizandra is an outstanding adaptogenic herb that can encourage a spring in your step and a sparkle in your eye.


Caffeine
Scientists and many athletes have known for years, of course, that caffeine before a workout jolts athletic performance, especially in endurance sports like distance running and cycling. Caffeine has been proven to increase the number of fatty acids circulating in the bloodstream, which enables people to run or pedal longer (since their muscles can absorb fat for fuel and save the body's limited stores of carbohydrates until later in the workout). Caffeine "antagonizes adenosine," a substance in muscles that builds up during exercise and blunts the force of contractions. The more adenosine in a muscle, the less force it generates. Caffeine reduces adenosine levels, which then enables more forceful muscular contractions and delays fatigue.


Beta-Alanine
The benefits of beta-alanine have been researched in over 20 scientific studies, 15 of which have been published in peer-reviewed journals. Studies were performed in conjunction with prestigious universities worldwide. Tested on a wide range of athletic performance, including sprinting, cycling, rowing, and weight lifting,Beta Alanine has been shown to do the following: Increase muscle carnosine for prolonged periods; Increase muscle buffering capacity; Decrease acidosis; Improve endurance;Delay fatigue; Increase strength; and Speed recovery from intense exercise. Carnosine is an extremely important dipeptide that is generally present in rather high concentrations in skeletal muscle. It is extremely important because it acts as a buffer of sorts, preventing the increase of acidity or Hydrogen ion accumulation in skeletal muscle; something which is thought to contribute to the fatiguing of muscles. Furthermore, by increasing carnosine levels, power output can be increased as well. In short, you are able to improve your power output, while also delaying fatigue; you can lift more explosively and for longer periods.


Creatine Nitrate, Creatine HCL, Creatine Monohydrate & Disodium Creatine Phosphate
While we may negate the increase in Hydrogen ion levels in skeletal muscle by increasing carnosine levels, we still must overcome one more obstacle in order to allow us to prevent fatigue while working out. In this case, we must use a compound which can ultimately increase the adenosine triphosphate (ATP) levels in muscle. ATP, as we all know, is a high energy nucleotide which acts as the major energy carrying molecule in our bodies. Consequently, muscle fatigue is also related to energy loss in skeletal muscle, specifically, ATP being converted to adenosine diphosphate (ADP). In effect, one phosphate group is lost and must be replenished in order for the muscle cell to continue on working. By supplementing with Hi-Tech's proprietary creatine complex, we are able to increase the levels of phosphocreatine in muscle. Phosphocreatine is a high energy buffering compound which is able to donate a phosphate group to ADP, allowing the formation of ATP once again. In short, we can prevent or reduce fatigue from occurring by increasing phosphocreatine levels, which in turn will allow for the regeneration of ATP from ADP leading to greatly reducing physical and muscular exhaustion.


Hi-Tech Pharma Jack'd Nutrition Facts


Are you still searching desperately for OxyElite Pro? Can't find a fat burner that competes with the effectiveness of the original formula of OxyElite Pro? Well that search is finally coming to an end. For the past 5 years there hasn't been an equally as effective duo of the DMAA/caffeine stack OxyElite Pro. Most companies let the FDA intimidate them into stopping the sales of this extremely potent combination.... Well not Hi-Tech! OxyElite Pro was one of these popular products that was backed by multiple clinical studies on its safety and efficacy. Hi-Tech even took it one step further and combined the powerful effects of Garcinia Cambogia extract (standardized to Hydroxy Citric Acid) to this already powerful combination. The discontinuation of DMAA by other companies in their has led to them spending millions and millions of dollars advertising the next best thing..... but why would you want that if you could have a New & Improved version of what you know works? You Wouldn't....Enter HydroxyElite by Hi-Tech to give you exactly what you want!


Want to know what makes HydroxyElite so special?
1,3 Dimethylamylamine
The most potent thermogenic compound in the recent decade to be released to the public. This compound took the place of ephedrine in the epehdrine/ caffeine stacks of yesteryear. 1,3 DMAA is a sympathomimetic, aliphatic amine with indirect (i.e., by increasing norepinephrine levels) and/or direct activity at alpha and beta-adrenoceptors. This compound is also a very powerful central nervous stimulant. Caffeine- This CNS stimulant noted for its ability to increase feelings of energy, alertness, concentration and thermogenic effects.


Garcinia Cambogia
The active ingredient in the extract is Hydroxy Citric Acid (HCA). HCA reduces fatty acid synthesis by approximately 40-70% for eight to twelve hours following a meal. Citrin K is a superior source of standardized high-potency HCA - this small pumpkin shaped fruit is a powerhouse of weight loss support! Hi-Tech utilizes the premium Garcinia on the market. Citrin K is a natural weight loss aid that has been demonstrated in pre-clinical and clinical studies and is a standardized extract from Garcinia Cambogia Extract enriched with potassium salt. Potassium improves penetration of HCA into the cytoplasm. The potassium salt of HCA is more available where it competes with citrate molecules for the enzymatic activity of ATP citrate lyase. Citrin K is patented for the induction of weight loss and the source used for HydroxyElite!


Hi Tech Pharma HydroxyElite Nutrition Facts