Warning: This product is not currently available at any store.
Click the button above and PricePlow will email you with updates from Hi-Tech Pharmaceuticals.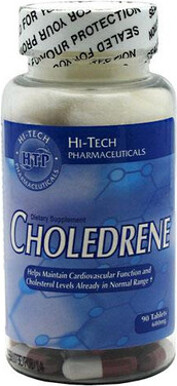 Hi-Tech Pharmaceuticals Choledrene
The release of Choledrene may be the most significant event in healthcare in years. Choledrene's core component, Monascus Purpureus, is included in Choledrene's unique Phytostatin formula. This is a composition unlike any other product on the market, and has been designed in China exclusively for Hi-Tech to contain optimal active compounds, which allows Choledrene to be sold as a nutraceutical dietary supplement.
Choledrene also contains a proprietary antioxidant blend with liver support co-factors. This makes Choledrene a one-of-a-kind leader in assisting in the maintenance of normal cholesterol levels and a healthy cardiovascular system. For enhanced cardiovascular healthcare, Choledrene can be used effectively in conjunction with Hi-Tech CoQ10, Heart-Rx, and Hi-Tech Red Yeast Rice Extract.
Hi-Tech Choledrene:
Cardiovascular Health Support Complex
Phytostatin Formula that Contains Monascus Purpureus
Proprietary Antioxidant Blend with Liver Support Co-factors