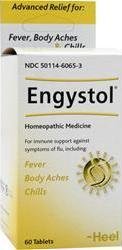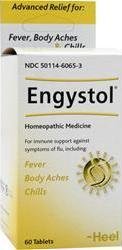 Engystol Description from HEEL
For immune support against symptoms of flu, including: fever, body aches, chills.
Ingredients:
Active Ingredients: Each 300mg contains: Asclepias vincetoxicum 6X 75 mg, Asclepias vincetoxicum 10X 75 mg, Asclepias vincetoxicum 30X 75 mg, Sulphur 4X 37.5 mg, Sulphur 10X 37.5 mg
Inactive Ingredients: Lactose USP, Magnesium stearate USP
Manufacturer's Directions
Adults and children above 6 years, 1 tablet 3 times daily, or as directed by a physician. Place tablet under the tongue or in mouth and completely dissolve. Infants and children to 6 years, 1/2 the adult dosage.
Manufacturer's Disclaimer
If symptoms persist or worsen, a physician should be consulted. As with any drug, if you are pregnant or nursing a baby, seek the advice of a health care professional before using this product. Store tightly closed at room temperature. Protect from light. Keep this and all medicine out of the reach of children.