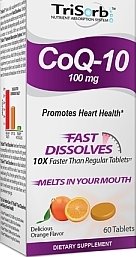 Healthy Natural Systems TriSorb CoQ-10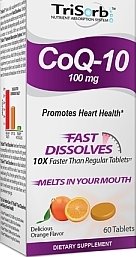 Healthy Natural Systems TriSorb CoQ-10
TriSorb
takes daily supplements to a whole new level with our new
Fast Dissolves
. Simply place a fast dissolve tablet on your tongue and feel the tablet disintegrating rapidly, usually in a matter of seconds. With our advanced
TriSorb Nutrient Absorption System
, there are no more common absorption problems or partially dissolved capsules and tablets that your body can't use. A full 100% of your dietary supplement goes to work instantly for you. Some regular tablets and caplets can take over 20 minutes to breakdown in the stomach.
TriSorb Fast Dissolves
have been formulated to smoothly melt in your mouth with great tasting flavors and no unpleasant aftertaste.
TriSorb Fast Dissolves
are an ideal solution for seniors, and those who have trouble swallowing. Plus, they're perfect for active, busy adults who are traveling and since you don't need water you can take them with you wherever you go.
Try our Entire Line of TriSorb Fast Dissolves and Enjoy Good Health!
TriSorb Vitamin B-12 10,000 mcg Fast Dissolves
TriSorb Vitamin D 2000 IU Fast Dissolves
TriSorb CoQ-10 100 mg Fast Dissolves
TriSorb Biotin 10,000 mcg Fast Dissolves
TriSorb Melatonin 10 mg Fast Dissolves
CoEnzyme Q-10 (CoQ-10) is found in every cell of your body. Your body makes CoQ-10 and your cells use it to produce energy your body needs for cell growth and maintenance. Additionally, it helps to maintain normal circulation, to support your immune system and to help protect cells from aging.* CoQ-10 helps enzymes work to digest food and perform other body processes, and they help protect the heart and skeletal muscles.*
As you age, your body's levels of CoQ-10 naturally decline, sometimes as early as your 20s. Other factors may affect your CoQ-10 levels too, such as inadequate dietary intake of CoQ-10, the use of statin drugs, oxidative stress on your cells, potential effects from illness, and an increased demand from your metabolism.
TriSorb CoQ-10 Fast Dissolves
provide antioxidant protection and cardiovascular support in a great tasting orange flavored tablet with
TriSorb
technology to help promote fast absorption.*
* These statements have not been evaluated by the Food and Drug Administration. This product is not intended to diagnose, treat, cure, or prevent any disease.