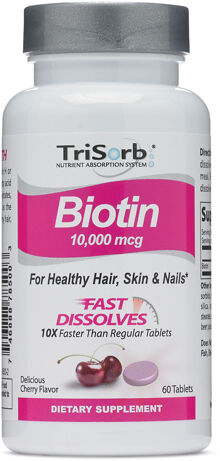 Healthy Natural Systems TriSorb Biotin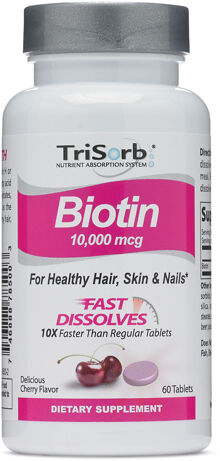 Healthy Natural Systems TriSorb Biotin
Healthy Natural Systems (HNS) TriSorb Biotin Fast Dissolves Cherry Description
For Healthy Hair, Skin and Nails
10X Faster Than Regular Tablets
Melts In Your Mouth
Dietary Supplement
No Water Needed
Biotin is a B Vitamin, also known a Vitamin, also known as Vitamin H or Coenzyme R. It is required for cell growth, fatty acid production, and the metabolism for carbohydrates, fats, and proteins. Sometimes regarded as the "Beauty Vitamin" as it helps promote healthy hair, skin and nails.
Biotin helps promote muscle comfort, healthy sweat glands, nerve tissue, and bone marrow. Early research indicates biotin may help promote insulin sensitivity and blood sugar levels already in the normal range. Depending upon individual absorption and the foods consumed, the bioavailability of biotin in foods may be limited.
TriSorb Biotin Fast Dissolves deliver 10,000 mcg of biotin to support healthy hair, skin and nails in a great tasting cherry flavored tablet with TriSorb technology to help promote fast absorption.
TriSorb takes daily supplements to a whole new level with our new Fast Dissolves. Simply place a fast dissolve tablet on your tongue and feel the tablet disintegrating rapidly, usually in a matter of seconds. With our advanced TriSorb Nutrient Absorption System, there are no more common absorption problems or partially dissolved capsules and tablets that your body can't use. A full 100% of your dietary supplement goes to work instantly for you. Some regular tablets and capsules can take over 20 minutes to breakdown in the stomach.
TriSorb Fast Dissolves have been formulated to smoothly melt in your mouth with great tasting flavors and no unpleasant aftertaste. TriSorb Fast Dissolves are an ideal solution for seniors, and those who have trouble swallowing. Plus, they're perfect for active, busy adults who are traveling and since you don't need water you can take them with you wherever you go.
Directions


For adults, take one (1) fast dissolve tablet daily, preferably with a meal. For best results, allow tablet to dissolve in mouth before swallowing.
Free Of Milk, eggs, wheat, gluten, fish, shell fish, nuts, tree nuts. Disclaimer These statements have not been evaluated by the FDA. These products are not intended to diagnose, treat, cure, or prevent any disease.
Supplement Facts